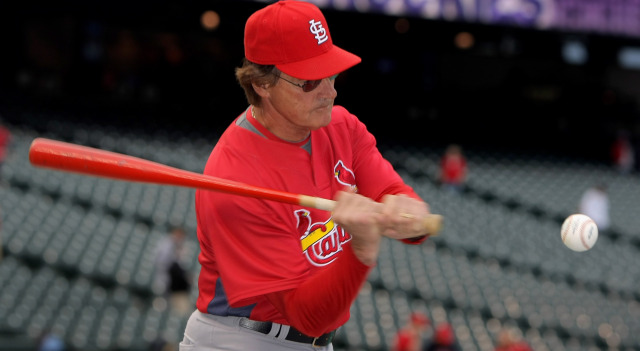 Twitter co-founder Biz Stone needed a lot more than 140 characters to deliver some big microblogging news over the weekend: The social networking site plans to start experimenting with "verified accounts" for public figures.
The announcement follows news of a lawsuit filed by St. Louis Cardinals manager Tony La Russa, who is furious over an imposter who did some decidedly tasteless tweeting in the skipper's name.
La Russa's lawsuit is "bordering on frivolous," Stone blogged Saturday. But he also used the post to give a sneak peek of a beta version of the verified accounts setup, which will offer a seal of approval of sorts to Twittering "public officials, public agencies, famous artists, athletes, and other well known individuals at risk of impersonation."
The move marks a major step toward getting Twitter itself beyond the frivolous by delivering a higher level of believability – whether the latest tweet is coming from the White House or is just more virtual trash talk aimed by Shaquille O'Neal (who tweets as "The Real Shaq") at Dwight Howard.
Anybody with Internet access is able to create a Twitter account using any name that's not taken, proving a platform for hoaxes – and, sometimes, humor. A Twitterer pretending to be Christopher Walken offered hilariously mundane tweets in the cadences of the actor's clipped speech in an obvious parody.
But exactly who's behind a tweet isn't always clear: A joker masquerading as convicted murderer and music producer Phil Spector fooled some with a wall of sounding off. Someone who may or may not have been former NYPD commissioner Bernie Kerik railed against the prosecutors targeting him for allegedly lying to the White House. In La Russa's case, a big tipoff came when the tweeter made an irreverent reference to the tragic deaths of two ballplayers.
All this may not matter much to folks who see Twitter as a way to follow friends and find cool links. But for those who tweet directly to a fan base or constituency – and for those who use the service to deliver or get news in real time – legitimacy is key.
Twitter's power as a news source and organizing tool is recognized by many – including the Chinese government, which reportedly blocked the social networking site and others last week amid the 20th anniversary of the Tiananmen Square massacre.
There's also a potential for manipulation as more businesses use Twitter for commercial purposes – whether openly or through touts. (Stone's blog post mentioned the possibility of expanding the verification process to businesses – could that be a sign Twitter may start charging companies to tweet?)
Twitter's need for increased credibility grows as it expands and wades into the mainstream. There's little doubt Oprah Winfrey's tweeting helped increase user ranks. Time magazine's cover story on Twitter last week served both as an analysis for those in the know and a primer for those who've only heard about tweeting. The story's headline was "How Twitter Will Change the Way We Live (in 140 Characters or Less)."
Whether Twitter will change our lives remains to be seen. But Stone and company apparently realize that for Twitter to keep building – and eventually make money – many users need to know that when it comes to following others, what they tweet is what you get.
Hester tweets -- somewhat infrequently -- here. He is founding director of the award-winning, multi-media NYCity News Service at the City University of New York Graduate School of Journalism. Hester also is the former City Editor of the New York Daily News, where he started as a reporter in 1992.
Copyright FREEL - NBC Local Media