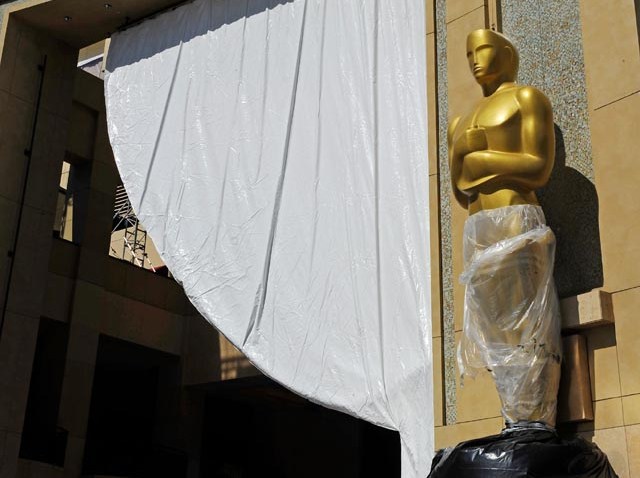 This is a family website, so I must begin this post by telling you that we at NBC do not condone illegal gambling, nor do we encourage you to place massive wagers on random events and use things like your wife, home, car, and grandmother's estate as collateral. Those would all be bad things.

Now, that said, it's crazy fun to bet on the Oscars, isn't it? Oh, the rush you feel when that envelope opens and it turns out that "Crash" came through for you at 7/1 odds. WE'RE HAVING STEAK TONIGHT, CHILDREN. What a moment. Can't be duplicated anywhere. Don't let those anti-gambling fascists tell you different!

Roger Ebert has declared this year's Oscars one of the easiest to predict in memory. He considers most of the major categories locked up. But let's take a stroll around the official gambling odds and make sure of that. Are there any good gambling values for your money out there? I consulted the Easy Odds site, because I always prefer the classy stylings of UK bookmakers.

BEST PICTURE The most uncertain of all categories also happens to be the biggest. Right now, "The Hurt Locker" is the bookies' favorite to win it all at 4/5 odds. "Avatar" is a close second with odds hovering right around even money. But say you like to live dangerously. Well, the Oscars' new voting system is a little kooky. If you think that could cause massive imbalances in the process, perhaps "Inglourious Basterds" at 15/1 is a bit more your speed.

Me, I'd hedge my bets and go with "Avatar." It's a bigger payoff than "Hurt Locker," and I don't think it's that far-fetched for the highest grossing movie in history, a movie that will go a long way toward keeping those in Hollywood rolling in money, to win it all. Call me kooky.

BEST ACTOR Jeff Bridges stands at 1/6 odds. No one else has a shot, and the payoff for betting on Bridges is pretty low. Or is it? If you bet $1,000, you get $160 in return on what appears to be a sure thing. Hmmm. Suddenly quite tempting. HOW CAN IT LOSE?

BEST DIRECTOR Kathryn Bigelow pays off 1/5 odds for winning this category. Her ex-hubby, James Cameron, averages 3/1 odds. Not bad odds for a guy who, again, directed the highest grossing movie ever.

BEST ACTRESS You can get 2/1 odds on Meryl Streep in this category, better than the 2/3 odds currently going for Sandra Bullock. Remember: Bullock is the favorite, but Streep's performance was insanely good. Could be worth betting on Oscar voters to make that same realization.

BEST SUPPORTING ACTOR Christoph Waltz gets a shocking 1/20 odds to win this. That means if you bet $10 on Waltz, you get a whopping fifty cents for your trouble if he prevails. Avoid this category entirely.

BEST SUPPORTING ACTRESS Those who tell you this category has a history of recent surprises fail to remember that the category has been as predictable as any other in recent years. Favorites like Renee Zellweger and Penelope Cruz have turned back any upset bids, so Mo'Nique (1/16 odds) will be tough to beat. Maybe a longshot like Vera Farmiga (20/1) will pay off, but I'd keep that bet very, very small.