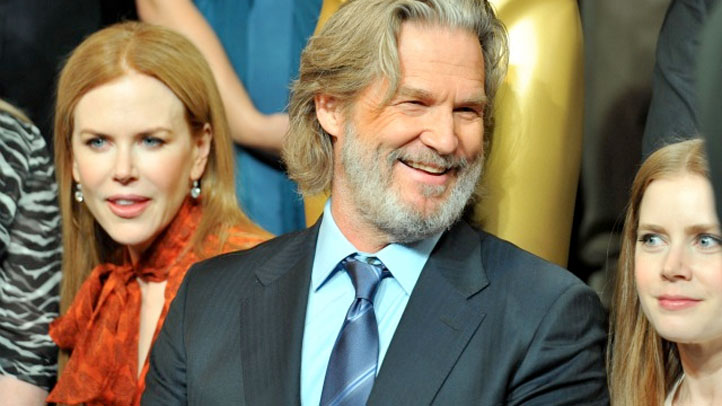 All year long, Scott Ross, Scott Huver, and Sasha Perl-Raver work the Hollywood trenches to bring you movie reviews, star and filmmaker interviews, and buzz-filled dispatches from the outer reaches of the movie industry, so who better to handicap this year's Oscar field?
The resident experts of PopcornBiz will now take you through the major categories (here's the complete list, if you need a refresher) and let you know who they think is going to take home a golden statue, and who they think will be getting the shaft from the Academy of Motion Picture Arts and Sciences. All we ask in return is that you split your inevitable Oscar pool winnings with us.
BEST PICTURE

ROSS: Of the 10 films nominated, none will be watched and talked about more in the future than Christopher Nolan's epic achievement, "Inception," but the Academy seems to hate him for some reason or another. Despite the late push by "The King's Speech," this is still "The Social Network"'s race to lose.
Should win: "Inception"
Will win: "The Social Network"

HUVER: Oscar un-Friended early frontrunner "The Social Network" quicker than if it's campaign included a Farmville invite. The Industry's choice is clear and without pause: "The King's Speech."
Should Win: "The Social Network"
Will Win: "The King's Speech"


PERL-RAVER: Up until a few weeks ago, "The Social Network" seemed to have this bad boy locked up, but after the DGA, PGA and SAG Awards, "The King's Speech" has edged into the lead. Since Fincher doesn't understand the meaning of the word "campaign," "The Social Network" has lost its goodwill faster than Myspace.
Should win: "The Social Network"
Will win: "The King's Speech"


BEST DIRECTOR

ROSS: Not since Steven Spielberg has a director been treated as shabbily by the Academy as Chris Nolan, who couldn't even get nominated.
Should win: Chris Nolan
Will win: David Fincher

HUVER: Of the 82 Best Picture winners, their directors have won 60 times – but three recent disruptions occurred in 2005, 2002 and 2000. Place your bets accordingly.
Should Win: Christopher Nol...um, I mean, David Fincher
Will Win: Tom Hooper

PERL-RAVER: It's a crowded field of bad boys with Fincher, Russell and Aronofsky, all known for hijinks that include 100-take scenes and throttling movie stars. The Academy could stick by old faithfuls, the Coen Brothers, but chances are they'll go with the kindest, gentlest gentleman in the bunch.
Should win: David Fincher (only because Nolan wasn't nominated)
Will win: Tom Hooper

BEST ACTOR

ROSS: Javier Bardem rolled deep in "Biutiful," as a Barcelona street hustler trying to get his kids taken cared of before he dies of cancer. But Colin Firth has this so wrapped up there's no point in discussing it further.
Should win: Javier Bardem
Will win: Colin Firth

HUVER: Colin Firth will be deservedly coronated. But wouldn't it be kinda cool to see Oscar host James Franco one-arm the trophy away?
Should Win: Colin Firth
Will Win: Colin Firth

PERL-RAVER: Colin Firth will surely receive the recognition he deserves for his role in "A Single Man." I mean, "The King's Speech."
Should win: Colin Firth
Will win: Colin Firth
BEST ACTRESS

ROSS: Michelle Williams in "Blue Valentine" laid bare the very darkest parts of her soul for our entertainment. But unless voters were totally put off by her Golden Globes acceptance speech, Natalie Portman will win, and will be hard to begrudge her the statue.
Should win: Michelle Williams
Will win: Natalie Portman

HUVER: Call me crazy, but despite Oscar's penchant to go to both transformative A-list glamour girls AND moms-to-be, Natalie Portman's pre-Oscar sweep and repetitive speeches are a Black Yawn compared to the momentum-gaining dark horse: widely admired Annette Bening may end up all right.
Should Win: Annette Bening
Will Win: Natalie Portman

PERL-RAVER: Is there any doubt at all that Natalie Portman will win for her role in "Rosemary's Ballet Baby"?
Should win: Natalie Portman
Will win: Natalie Portman
BEST SUPPORTING ACTOR

ROSS: Jeremy Renner was pretty awesome in "The Town" as a trigger happy bank robber, but Christian Bale in "The Fighter" did all the things the Academy loves: sported prosthetics, lost weight, and talked funny, and he did them all amazingly well.
Should win: Christian Bale
Will win: Christian Bale


HUVER: Man, I REALLY wouldn't want to be on the receiving end of the possible tirade directed at Christian Bale's campaigners if he doesn't win.
Should Win: Christian Bale
Will Win: Christian Bale

PERL-RAVER: At the start of "The Fighter," Christian Bale's character describes himself as "squirrely." What unfolds is a master class in backing that up.
Should win: Christian Bale
Will win: Christian Bale
BEST SUPPORTING ACTRESS

ROSS: Folks have been turned off by Melissa Leo's self-funded campaign for the prize, opening up an opportunity to recognize Hailee Steinfeld's star-making turn in "True Grit." Unfortunately, not enough folks appreciated Jacki Weaver's work in "Animal Kingdom," which was a clinic in the slow reveal. She was as horrible a mother as you've ever seen on film.
Should win: Jacki Weaver
Will win: Hailee Steinfeld

HUVER: Melissa Leo = Brilliance. But when has a performance made you perk up and stake notice more than Hailee Steinfeld's? Plus, Oscar loves making stars of underage ingénues (that may sound creepier than intended).
Should Win: Hailee Steinfeld
Will Win: Melissa Leo

PERL-RAVER: Melissa Leo seems the sure bet but the Academy loves bestowing promising young performers with early Oscar gold which could mean that Hailee Steinfeld is this year's Anna Paquin. Or Tatum O'Neal. Only time will tell.
Should win: Jacki Weaver
Will win: Melissa Leo
BEST ANIMATED FEATURE

ROSS: It was the only animated film nominated for Best Picture, so it stands to reason there's only one way for this race to end, despite what Sasha thinks.
Should win: "Toy Story 3"
Will win: "Toy Story 3"

HUVER: Duh. You know where the Buzz is.
Should Win: "Toy Story 3"
Will Win: "Toy Story 3"

PERL-RAVER: "Toy Story 3" has this one in the bag, but "The Illusionist," despite Ross' vehement hatred, was a strong contender and "How to Train Your Dragon" was the most magical experience in recent cinematic memory.
Should win: "How to Train Your Dragon"
Will win: "Toy Story 3 "
BEST FOREIGN LANGUAGE FILM

ROSS: "Dogtooth" was one of the most visually arresting and thought-provoking films we saw in 2010, but "Biutiful" was a genuine triumph by a truly great director, Alejandro González Iñárritu, and actor, Javier Bardem, and not nearly as weird.
Should win: "Dogtooth"
Will win: "Biutiful"

HUVER: The Bardem of it all pushes "Biutiful" to the forefront.
Should Win: Geez, I gotta see more foreign films.
Will Win: "Biutiful"

PERL-RAVER: To be totally honest, the only film in the field that I've seen is "Biutiful" so I'm not knowledgeable enough on this category to make an assessment. Whatdayawant? I'm an American; you know how we feel about reading subtitles. Kidding!
BEST DOCUMENTARY FEATURE

ROSS: "Exit Through the Gift Shop" was inventive and entertaining, but the Academy is no doubt terrified of Banksy, and eager to celebrate "Inside Job," a "important" film about how the global financial meltdown happened.
Should win: "Exit Through the Gift Shop"
Will win: "Inside Job"

HUVER: The Academy may fear that "Exit Through the Gift Shop's" anonymous anarchist Banksy will either send a Sacheen Littlefeather to accept in his place or sneakily graffiti up its golden icon. We'll go with the brainy money movie.
Will Win: "Inside Job"
Should Win: "Waste Land"


PERL-RAVER: Don't we all want "Exit Through the Gift Shop" to win just to see how Banksy handles making or not making an appearance?
Should win: "Waiting for Superman" or "The Tillman Story," neither of which are in contention, sadly.
Will win: "Inside Job"
BEST ORIGINAL SONG

ROSS: Having just listened to all four nominated songs, we feel a strong need for a drink--thank god they overlooked "Burlesque."
Should win: "I See the Light," from "Tangled"
Will win: "I See the Light," from "Tangled"


HUVER: And are ANY of these on your iPod? Let's guess that prior winner Randy Newman takes it, so he can have Oscar bookends – and further distance himself from "Short People."
Should Win: You tell me.
Will Win: "We Belong Together" from "Toy Story 3"


PERL-RAVER: Whaaa? No nomination for "Burlesque"? But the HFPA association said—oh, never mind.
Should win: "I See the Light"
Will win: "We Belong Together"



BEST ORIGINAL SCORE

ROSS: We're a little surprised "Rabbit Hole" didn't get a nod, but it wouldn't have mattered—Trent Reznor and Attcius Ross (no relation) have this thing sewn up.
Should win: Trent Reznor and Attcius Ross, "The Social Network"
Will win: Trent Reznor and Attcius Ross, "The Social Network"

HUVER: Academy under-50s will vote for Trent Reznor for his NiN cred; over-50s will think it's hip to vote for the Facebook movie's music (just don't ask them how to download it).
Should Win: "The Social Network"
Will Win: "The Social Network"

PERL-RAVER: Joining the esteem ranks of former winners, including Hans Zimmer, Alan Menken and John Williams, is…the guy who wrote the lyrics, "I want to f--- you like an animal"? Hey, if Three 6 Mafia can win--
Should win: Trent Reznor and Atticus Ross
Will win: Trent Reznor and Atticus Ross