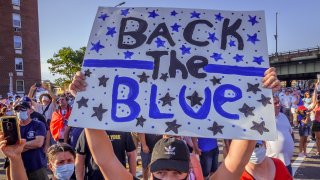 A woman who was arrested last week after she stepped on a pro-police "Back the Blue" sign and threw it into a trash bin in front of an officer faces a hate crime charge under Utah law, records show.
The incident occurred July 7 when Garfield County Sheriff's Deputy Cree Carter pulled a driver over at a gas station for speeding in Panguitch, Utah, court records said. Although the woman's name was redacted in the documents, she identified herself in a Daily Beast article as 19-year-old Lauren Gibson, a college student in California.
Carter's report states Gibson faces a hate crime because she attempted to "intimidate law enforcement while destroying a 'Pro Law Enforcement' sign."
Utah law defines a hate crime as an offense meant to intimidate or terrorize another person or with reason to believe an action would intimidate or terrorize. Another Utah law designates law enforcement officers as a protected class.
Stay informed about local news and weather. Get the NBC 6 South Florida app for iOS or Android and pick your alerts.