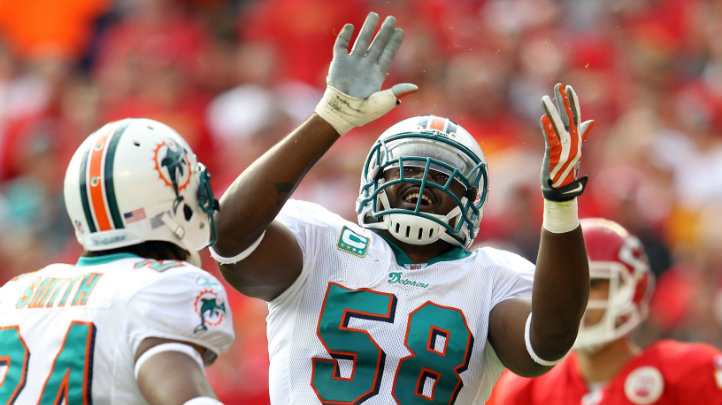 Beauty is in the eye of the beholder, and in Karlos Dansby's eyes, the Miami Dolphins are the Mona Lisa of football teams.
The Miami Dolphins linebacker told ArizonaSports.com on Wednesday that the Dolphins have more talent than the 2008 Cardinals, who went to the franchise's first ever Super Bowl. The Dolphins visit the current version of the Cardinals on Sunday. Dansby was the leading tackler on the 2008 squad, leaving for the Dolphins a year later via free agency.
"I tell them every day, we've got what it takes -- we've got more than what it takes. We're more talented there than I was ever in Arizona, if you look at the stats, or you look at the players and the potential," Dansby said. "We've just got to put it together as a team. That's what I told them, when we were there, we were a team, it didn't matter, we were all in."
At first glance, it is pretty hard to take Dansby seriously. The 2008 Cardinals had QB Kurt Warner, a two-time NFL MVP, WR Larry Fitzgerald, one of the best in the game, and RB Edgerrin James, 11th on the NFL's all-time rushing list.
And that is just the offense. The defense had Dansby (whose best years statistically have been with Arizona) and Pro Bowlers Dominique Rodgers-Cromartie, Antrelle Rolle, and Darnell Dockett.
In all, the Cardinals sent five players to the Pro Bowl that season. It's way too early to tell if Miami can match that, but thus far the Dolphins only have two real Pro Bowl candidates (RB Reggie Bush and LT Jake Long).
The statistics don't back up Dansby's claims, either. The 2008 Cardinals were 4th in the NFL in offensive yardage and 3rd in points scored. The 2012 Dolphins offense is 12th in yardage and 20th in points. The Dolphins have a better defense, giving up 22.0 points per game compared to 26.6 for the 2008 Cardinals. But Miami is 29th in pass defense, which is not exactly something to brag about.
Dansby is no stranger to outlandish claims. In May he predicted the Dolphins will win an AFC title this season. Last November, he called himself "better than everybody."
Perhaps he is just trying to fire up his team before a critical road trip (lose on Sunday to Arizona, and the Dolphins fall in a deep 1-3 hole). But Dansby is becoming the NFL's version of the boy who cried wolf: the linebacker who let his mouth (and not his game) do the talking.