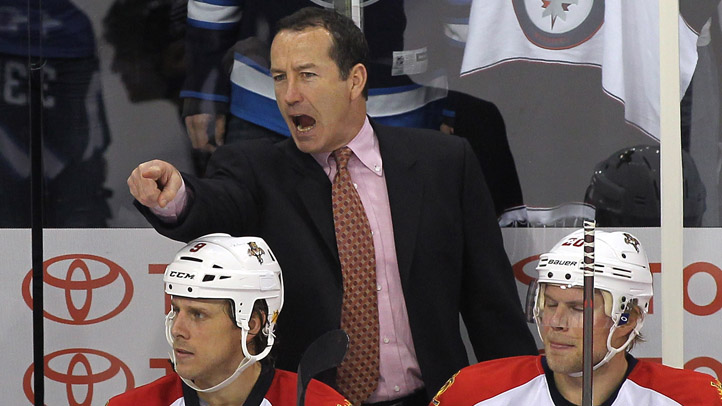 The Florida Panthers announced Friday that they have fired head coach Kevin Dineen.
Also let go were assistant coaches Gord Murphy and Craig Ramsay.
Peter Horachek has been named the club's interim head coach. Joining him are Brian Skrudland and John Madden, who will join the Panthers staff as assistant coaches.
The moves were made just hours after the Panthers were beaten 4-1 by the Bruins in Boston to run their record to 3-9-4 through the first 16 games of the 2013-2014 season.
"After 16 games it was clear that our team needed a change in philosophy and direction," GM Dale Tallon said in a statement Friday. "We have not met the expectations that we set forth at training camp and it is my responsibility to make the necessary changes to ensure that our club performs at its maximum potential. We thank Kevin, Gord and Craig for their hard work and dedication to our organization and the professionalism that they displayed throughout their tenure."
Dineen was hired prior to the 2011-2012 season, when he led the Panthers to their first ever division championship with a 38-26-18 record.
But a terrible 2012-2013 season saw the Cats finish at the very bottom of the league with a 15-27-6 record.
He leaves the team with a 56-62-28 record overall.
"We thank Kevin and his family for their passion, sacrifice and dedication to this franchise, but at this time we felt a change in direction was absolutely necessary," team owner Vinnie Viola wrote in a letter to fans Friday.
Horachek, 53, becomes the team's 12 head coach in franchise history. He most recently served as the head coach of Florida's American Hockey League affiliate, the San Antonio Rampage.
"Peter is a bright hockey mind who brings to our club a wealth of coaching knowledge," said Tallon. "He is a focused, determined and demanding coach who has experienced great success at all levels of competition."
Skrudland, 50, was the first team captain for the Panthers and registered 343 points in 881 career games in the NHL. He's spent the past four years as the Panthers' director of player development.
Madden, 40, won three Stanley Cups throughout his 13-year career which ended with the Panthers after the 2011-2012 season.
He returned to the Panthers this season as a pro scout.
Though the season is still young, the Panthers have a lot of work to do if they want to right their ship. Only three teams in the Eastern Conference have accumulated fewer points in the standings than Florida's 10.
Florida is second-to-last in the NHL in goals allowed (57), and is also in the bottom five in goals scored (42) and power play goals (5).
This could be just the first of many changes in the Panthers locker room, according to Tallon. "Our better players have to start playing better or we will get better players," he said. Tallon added he has been weighing the decision to fire Dineen "for a long time," adding that he is not the only person to blame for Florida's slow start.
"It's embarrassing," Panthers forward Shawn Matthias said after the loss in Boston on Thursday night. "I can't remember the last time we won. There are no positives right now."
Copyright AP - Associated Press