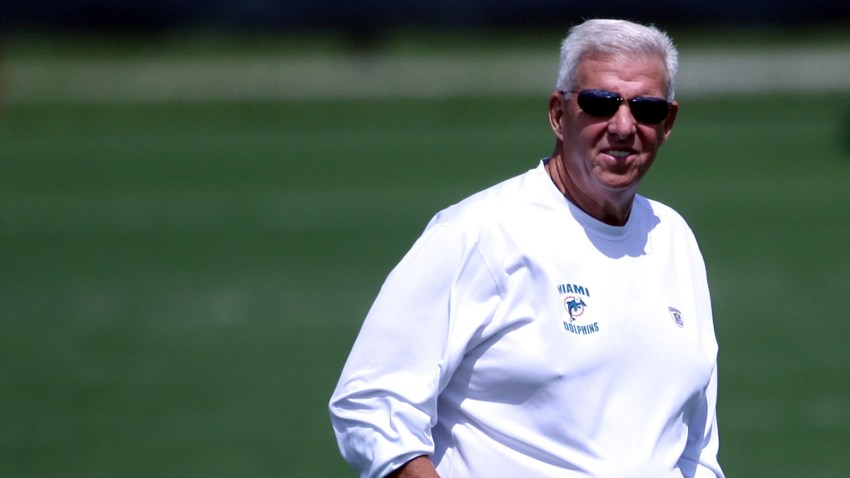 While the world mourns (just us? okay) the renaming of Dolphin Stadium in exchange for tailgating with accessorizes by Party City's "hula" aisle, it's reassuring that the one person who can keep the whole shebang on track is still on task.
No, not you, Vontae Davis. Put your shirt back on.
We're talking about Bill Parcells.
While Jimmy Buffett was telling us that the fin can begin, Actual Dolphins Football Players were busy being tortured into top-notch shape over at the training facility. Cornerback Eric Green told the Miami Herald spring workouts are so intense, "I was throwing up lifting weights."
Great! Imagine what they're suffering on the field!
And keep crackin' the whip, sir, because let's be honest: no amount of entertainment in the world is going to bring fans like compelling, competitive smashmouth football -- even if LandShark turns into NakedBeyoncéville for the 2010 season (yes, male readers, you can cross your fingers if you want to).
The Phins are facing the toughest schedule in the NFL, and the season will get very ugly very quickly if the Dolphins get distracted. No amount of Jimmy Buffett will be able to fix it.
So Parcells, who's always been strictly about football, football, football, is the perfect counterpoint. And it's good to know nothing's changing to that end, not with players being pushed harder than ever -- or threatened within an inch of their lives. Green also said coach Tony Sparano and general manager Jeff Ireland told him before signing: ''We rolled 80 guys through our 53-man roster last year. What does that tell you? If you're not going to play, we'll get rid of you.''
Ah. There it is. Buried beneath the new marketing-wiz CEO and through a haze of manufactured island state of mind, we find it: football.
Now that's more like it. We never thought we'd say this, but: more puking, please.
Copyright FREEL - NBC Local Media