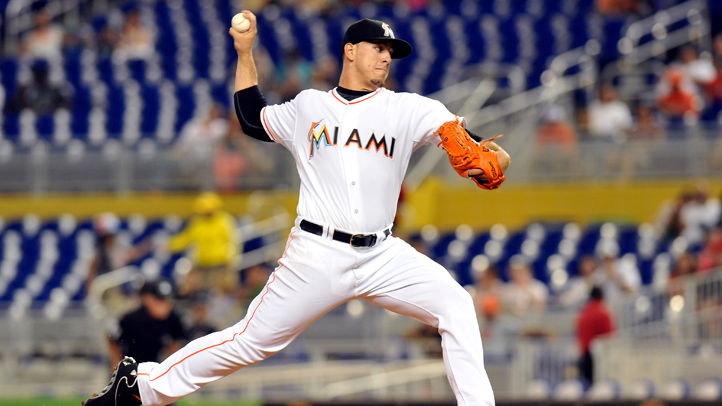 Miami Marlins pitcher Jose Fernandez has already had an excellent rookie campaign, and it got even better on Saturday when he was named to the National League All-Star team.
The Cuban American righty has rode his 2.83 ERA and 9.03 strikeouts per 9 innings to notoriety. Along with young pitchers Nate Eovaldi (23) and Jacob Turner (22), the 20-year-old Fernandez is expected to be part of the Marlins' staff for a long time after last offseason's purge of expensive former All-Stars.
"Everybody knows I was not supposed to start with the team this year," Fernandez told MLB.com on Saturday. "Things happened, and I got a chance to pitch. Now, I have a chance to be on the All-Star team, it's just something that for sure I wanted to do in my career, to be there with those guys. Those are the best players in the world. I've got a chance now to do it at 20. Just to think about it is something I will remember for the rest of my life."
Marlins Trade Nolasco to Dodgers
Fernandez was selected by the Marlins in the first round of the 2011 MLB Draft. He emigrated from Santa Clara Cuba in 2008. He was originally to start the season in Double-A, after spending last season in Single-A.
But injuries to Eovaldi and Henderson Alvarez in Spring Training forced Fernandez up to the big club, and he has taken the most of the opportunity. Fernandez is 5-5, with 99 strikeouts and an opponent's batting average of .192
"I think you are looking at the guy who as the ability to be the face of our franchise," manager Mike Redmond added. "A guy who is 20 years old, and he's been so good. You look at his story and what he's able to do. He's a great story. He's got the ability to be a No. 1 pitcher for a long time."
Fernandez is the fourth rookie in team history to make the All-Star team, along with second baseman Dan Uggla (2006), pitcher Dontrelle Willis (2003), and shortstop Alex Gonzalez (1999).
The annual All-Star Game will be held at Citi Field in New York on Tuesday, July 16.