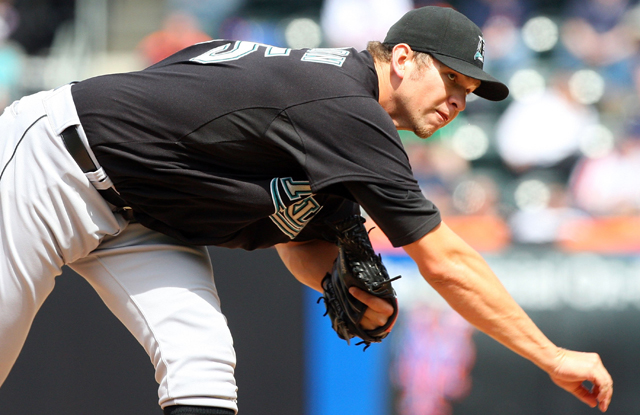 Josh Johnson described his pregame warmup for Saturday night's start against the Colorado Rockies as "terrible," struggling with his control and grip. Still, he refused to worry about the problematic bullpen session once he began throwing pitches that counted.

"Because," Johnson said, "sometimes you throw terrible out there, and all of sudden you're lights out in the game."

The Rockies will attest to that.

Johnson pitched eight innings of seven-hit ball to lead the Marlins past the Rockies 3-1 on a chilly night at Coors Field.

"He has so many weapons," Rockies manager Clint Hurdle said. "He threw 70 to 75 percent fastballs. He had a good command of it, and had an effective slider and a handful of changeups."

Jorge De La Rosa (0-3) was almost as tough on Marlins' hitters, striking out a career-high 12 in eight innings. He allowed four hits and walked one but remained winless in six starts this season despite retiring the last nine batters he faced.

Said De La Rosa, "It's the way it's been for this team this year. I pitched well, but it's a loss. None of us are happy with losing."

The Marlins gave Johnson, who fanned five and walked none, a lead to work with in the first inning. Hanley Ramirez, who collected three more hits to push his two-game total to seven, doubled and scored when Jorge Cantu followed with a single to left.

Ramirez singled to drive in the Marlins' second run after Dan Uggla tripled to the warning track in center leading off the fourth. The hot-hitting Marlins shortstop extended his hitting streak to seven games during which he has batted .555 with four home runs and six RBI.

Ramirez has a simple explanation for his surge.

"I'm seeing the ball well, being patient and swinging at strikes," he said.

Johnson's sinking fastball was as impressive as Ramirez's bat. It was so effective the Marlins' outfield didn't record a putout until the seventh when Ian Stewart's fly ball was caught by left fielder Brett Carroll. Colorado finally broke through for a run in the eighth when pinch-hitter Dexter Fowler and Seth Smith hit consecutive singles and Fowler scored on Troy Tulowitzki's groundout.

The Marlins won their second straight after a stretch in which they had lost six of seven. Colorado (11-18) lost its third straight in falling to a season-low seven games below .500.



Copyright AP - Associated Press