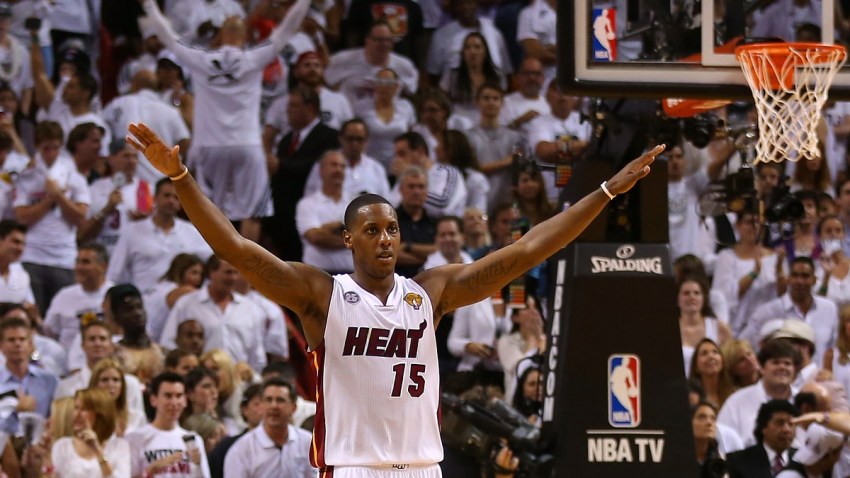 Miami Heat PG Mario Chalmers is looking slimmer as the Heat prepare for the 2013-14 season, and he credits a bet he made with teammate Ray Allen for his new look.
According to the Sun Sentinel, Allen bet Chalmers that he could not lose ten pounds in a week, a challenge which Chalmers overcame through some simple changes to his diet and encouragement from LeBron James and Dwyane Wade.
"[The bet] started with Ray," Chalmers told the Sentinel. "We wanted to three-peat. They all said, 'We need you to be the head of the team, you need to be in tip-top shape and we need you to lead by example.'"
Chalmers explained he stopped eating fried food and drinking soda, two major sources of empty calories, and added more salads to his diet. "I still have a lemonade here and there, but not as much as I used to," he said.
The result: a leaner Chalmers who is noticeably fleeter of foot.
"I feel a lot faster," Chalmers said. "It helps me get to different spaces on the court and small cracks easier."
James said of Chalmers' weight loss, "It's made him a lot quicker, actually. It's going to help us out this year."
Chalmers is one of the more overlooked players on the Heat. Though he plays point guard, James and Wade often shoulder ball-handling duties. He also tends to get an earful from his older teammates after making a mistake on the court, giving him the unfortunate role of the little brother to his All-Star teammates.
But Chalmers is also highly trusted by those teammates and the Heat coaching staff, who helped develop him into a starting point guard after being selected in the second round of the 2008 draft.
With his rookie contract expiring after this season, Chalmers has an extra incentive to play faster and more effectively. Though the Heat will likely try to re-sign him, Chalmers could easily garner a more lucrative offer from another team. Shedding those pounds could help lead to a nice pay bump next season.