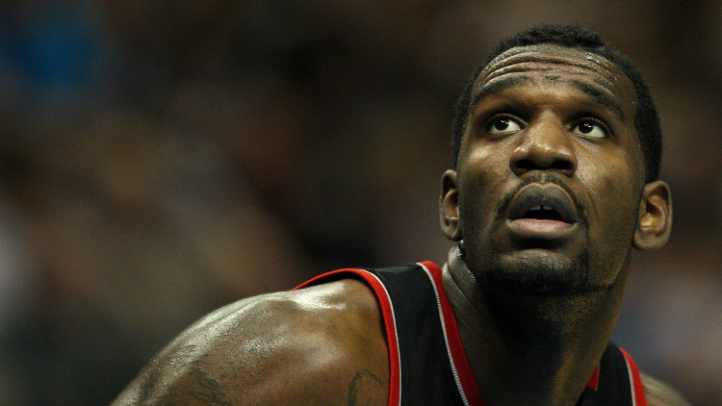 After a summer of courtship from multiple NBA teams, former first-overall draft pick Greg Oden has decided to join the Miami Heat. Oden has informed the Heat of his decision and is expected to formally sign in the coming days, according to a person familiar with the situation.
The person told The Associated Press on condition of anonymity Friday night because no contract has been signed. Several NBA teams were vying for the chance to sign Oden, whose career has been derailed by a series of knee problems.
According to The Miami Herald, Oden's deal is a two-year contract (with a player option for year 2) at the league minimum of $1 million per season. Heat president Pat Riley still managed to avoid using the Heat's $3.1 million midlevel exception, even though (according to the Herald) other teams offered Oden more money.
Coming back from such a long layoff, Oden's tenure may resemble that of former Heat center Eddy Curry in 2011-12. The Heat worked Curry into the regular rotation very slowly (he only appeared in 14 regular season games).
Oden has not played a game since 2010. He was cut by Portland last March, having appeared in just 82 games during his five-year stint with the Trail Blazers. During his time in Portland, he averaged 9.4 points, 7.3 rebounds, and 1.4 blocks a game for his career.
He can be a force on defense, as shown by his career 5.1 percent block rate (measured in blocks made per shot attempt while on the floor). In Oden's one season at Ohio State University, he averaged 15.7 points and 9.6 rebounds per game.
The Heat will return nearly the entire roster from last season's championship team (save for the recently-amnestied Mike Miller, and seldom-used Juwan Howard is not expected to return), so Oden will likely not see much action at first (and only late in blowouts if at all).
It is a very low-risk signing for the Heat, who can afford to park him on the bench. In a best-case scenario, Oden regains his form and becomes the great player everyone expected him to be when he came into the league.
Either way, the Heat will still be favored to win another championship.
Copyright AP - Associated Press