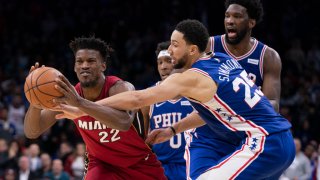 Kendrick Nunn scored 26 points to help the Miami Heat hand the Philadelphia 76ers their first home loss of the season, 108-104 on Wednesday night.
The 76ers had been 14-0 at home, including a 113-86 victory over the Heat last month.
Tobias Harris buried a 3-pointer for the Sixers with 25.5 seconds left that made it 106-104 and they had sudden life when Nunn missed twice at the free throw line. Al Horford, though, missed an open 3-point attempt from the wing and the Heat escaped in a thriller.
Bam Adebayo scored 23 points and Duncan Robinson had 15 for the Heat. Robinson made a pair of 3s in the fourth that stretched the lead to 14 points, and Nunn buried a 30-footer for a 99-83 lead.
Joel Embiid, who missed Sunday's rout by the Nets with an upper respiratory illness, had 22 points and 19 rebounds. Harris scored 20 points.
Jimmy Butler scored 14 points for the Heat and was pretty much a non-factor until late in his second game back in Philadelphia.
Copyright AP - Associated Press