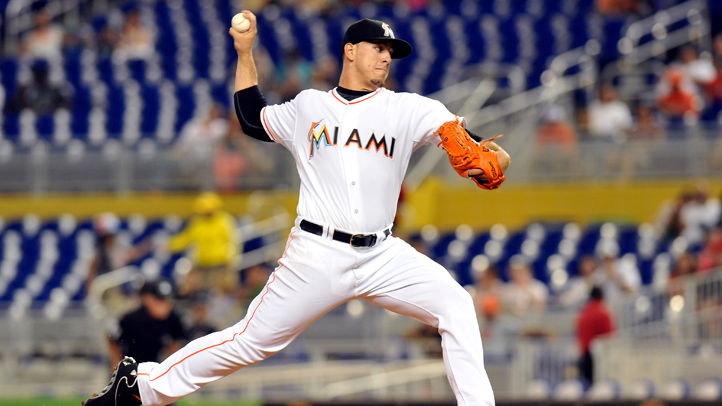 Miami Marlins rookie phenom Jose Fernandez will make his final start of the 2013 season on Wednesday night. Approaching the 170-inning limit set by the team for him, Fernandez has one more shot to cement a very solid case that he should win the National League Rookie of the Year Award.
Just 21 years old, Fernandez was added to the Marlins' Opening Day roster this year in a surprise move motivated by injuries to two other Miami starters. Fernandez did not just show that he belonged on the big club, he quickly became the staff ace.
Fernandez is second in the majors with a 2.23 ERA, which would be the second-best single-season performance in franchise history if it holds (behind Kevin Brown's 1.89 ERA in 1996). Fernandez has struck out 9.89 batters per nine innings, tops among rookie starters with at least 100 IP.
The story of his journey from Santa Clara, Cuba, to the big leagues is well documented, but in case you have not been paying attention (a forgivable sin when it comes to the Marlins), here are the details:
Fernandez defected to the U.S. via Mexico in 2008 with his mother. It was their fourth attempt to leave the country together. They settled in Tampa, where he worked his way into a powerhouse pitcher for Alonso High School. The Marlins selected him with the 14th pick of the 2011 MLB draft.
"It has been pretty hard for me to get here — not to the big leagues, but to the United States," he said earlier this season. "Living in Cuba for 15 years taught me a lot. Life over there is pretty tough. I'm incredibly blessed to be in the United States."
Fernandez was the only Marlin selected to the NL All-Star team, and he did not disappoint, striking out former MVP Dustin Pedroia and current AL home run leader Chris Davis in a 1-2-3 inning. Simply put, he has been the lone bright spot in a very dark season for a Marlins team that could very well lose 100 games.
Thirty of Fernandez's friends and relatives will attend the game. He said he can't believe his season is almost over.
"I'm looking at it like, 'I've got to go home already?'" he said. "It flew by."
If he does win Rookie of the Year, Fernandez would become the fourth Marlin to do so. Dontrelle Willis was the first in 2003, followed by Hanley Ramirez in 2006 and Chris Coghlan in 2009.
He does have competition, most notably from another Cuban defector, Yasiel Puig. The 22-year-old Dodgers outfielder is hitting .343 with an OPS of .961, best in the NL.
Even if he does win, Fernandez says his goals are bigger than Rookie of the Year. "When we go to the World Series next year, it's going to be good," he said.
"That's my goal. That's what I'm going to work for in the offseason, and I know my teammates are going to do the same thing."
Fernandez will take the hill against the Atlanta Braves, with the first pitch at 7:10pm ET. As with most Marlins games, there are plenty of seats still available.
Copyright AP - Associated Press