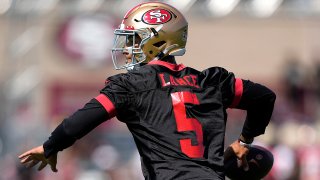 2022 NFL preseason: Which games are scheduled for Sunday? originally appeared on NBC Sports Washington
The 2022 NFL preseason has moved into Week 3.
After an action-packed two weeks, the league is gearing up for the regular season. But first... let's kick off Week 3 with two matchups on Thursday.
Here's what you need to know to catch Thursday's action:
Stay informed about local news and weather during the hurricane season. Get the NBC 6 South Florida app for iOS or Android and pick your alerts.
What NFL preseason games are on tonight?
There are two games slated for Thursday to kick off Week 3 of preseason play. Here are those games:
What times are the NFL preseason games tonight?
Here are the kick-off times for the games on Sunday:
Packers at Chiefs: 8 p.m. E.T.
49ers at Texans: 8:15 p.m. E.T.
How to watch the NFL preseason games tonight
The Packers-Chiefs game will be broadcast nationally on NFL Network. At the same time, the 49ers-Texans game will stream on Amazon Prime Video, the NFL's new home for Thursday Night Football. Thursday's game will be the first time that Prime Video will have exclusive broadcast rights for an NFL game of any kind.
You can find local channels and radio stations for all of the matchups here.
What are the odds for the NFL preseason games tonight?
Here's what the odds look like for Sunday's preseason games, according to our betting partner, PointsBet:
Packers at Chiefs:
Spread: Packers -1.5, Chiefs +1.5
Points total: Over/under 36
Moneyline: Packers -120, Chiefs +100
49ers at Texans:
Spread: 49ers -4, Texans +4
Points total: Over/under 41.5
Moneyline: 49ers -176, Texans +145
Editor's note: All odds are provided by our partner, PointsBet. PointsBet is our Official Sports Betting Partner and we may receive compensation if you place a bet on PointsBet for the first time after clicking our links.
Copyright RSN