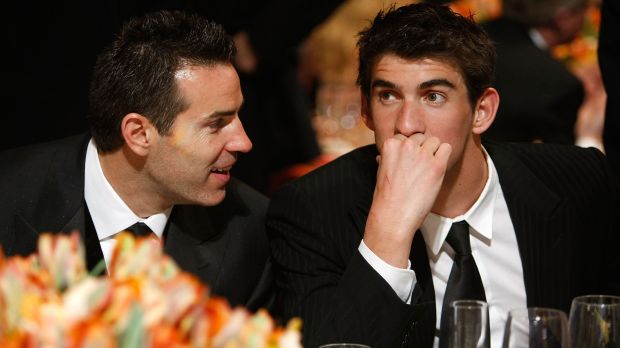 English tabloids are not exactly beacons of journalistic pride. Nor are U.S. tabloids, now that we think about it. But Star's English counterparts have a distinctly insane way of doing business -- publishing one-witness star run-ins, running with whatever wild rumor seems fun that day, and, perhaps most egregiously, showcasing nude photos of anyone both nude and newsworthy. It's quite a business model, really.

U.S. Olympic champ Michael Phelps has had his run-ins with the papers before, most notably with News Of The World, who got the Phelps-taking-a-bong-hit photo that put the star's entire image into jeopardy. That paper is back again today with a story from an alleged Phelps sex partner. (Warning: Link extremely not safe for work.) Oh, it's fun stuff. Among the charges leveled at Phelps by the stripper: Phelps and his friends visited the club, invited girls back to his house, proceeded to have a threesome with them, and so on and so forth. Perhaps the most damaging: Phelps leaves lots of "makeshift spittoons," as the story calls them, lying around his house. Anybody with a friend who chews tobacco can empathize.

Hard-hitting journalism at its finest here, really. The source seemed to do much of her interview -- at least the on-camera portions of it -- in a hot pink teddy, which she apparently later removed. (This is where we avoid making a joke about Woodward, Bernstein, and Deepthroat.) And people say newspapers are dying!

On a slightly more reflective note, has there ever been an Olympic athlete whose celebrity lifestyle was as highly scrutinized? Sure, our era is different from, say, the 1970's, when Mark Spitz won all his medals, but Phelps has seemed to go beyond the norm. He's achieved a level of personal stardom wherein he's treated much like Tom Cruise or Angelina Jolie. It's remarkable, actually. In so far as you can feel bad for a guy whose main cause for stress is having a good-looking stripper inform the world of his alleged sexual exploits, we feel sort of bad for him.

Eamonn Brennan is a Chicago-based writer, editor and blogger. You can also read him at Yahoo! Sports, Mouthpiece Sports Blog, and Inside The Hall, or at his personal site, eamonnbrennan.com. Follow him on Twitter.
Copyright FREEL - NBC Local Media