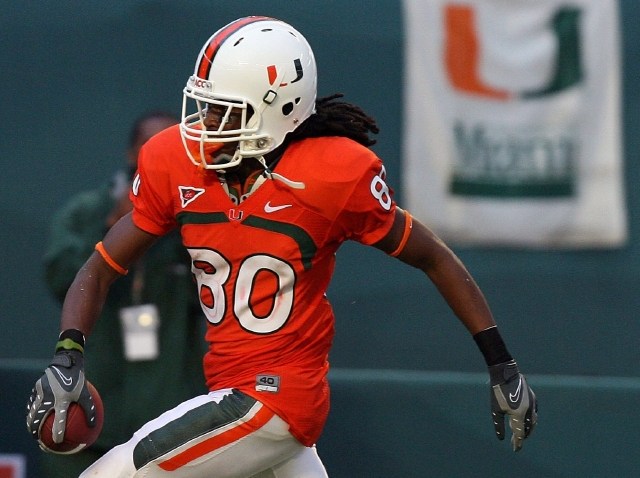 Travis Benjamin racked up 171 receiving yards and Leonard Hankerson caught two touchdown passes in Miami's annual spring game at Traz Powell Stadium in front of an estimated crowd of 10,000.
Benjamin, Aldarius Johnson, Davon Johnson, and Kendal Thompkins also caught a touchdown pass. Damien Berry and Lamar Miller each scored rushing touchdowns. Team Hurricanes beat Team Miami 58-53.
A trio of back-up quarterbacks — Stephen Morris, A.J. Highsmith, and Spencer Whipple — handled the spring game duties because junior starter Jacory Harris (3,352 yards and 24 touchdowns in 2009) was held out throughout the spring after off-season surgery on his throwing hand to repair ligaments in his thumb.
Morris, a freshman, led the passing attack with 209 yards and two touchdowns on 12-of-21 passing with one interception. Highsmith was 11-of-20 for 131 yards with three touchdowns and two interceptions. Whipple was 7-of-16 for 112 yards and a score.
"I think all three quarterbacks did a nice job running the offense," head coach Randy Shannon said. "We were basic and simple on defense, but they executed. We had some turnovers with the interceptions and things like that, but as far as making the right choices and making the right plays and getting the ball to the big plays."
On defense, Ray Ray Armstrong recorded two interceptions and Colin McCarthy had one. Sean Spence led the team with eight tackles.
"The competition was unbelievable," Shannon said. "Both sides of the ball had big games. Now you've improved. Now you have to take the next step in the offseason."
Benjamin's big day came on six catches. His longest play was a 75-yard touchdown from Morris.
"Travis had a big day," Spence said. "He's always very explosive when he gets the ball in his hands. I was just happy for him."
Mike James had the biggest run of the day, at 48 yards. He led the rushing output with 64 yards on 10 carries.
Berry added 42 yards on 15 carries including a 25-yard touchdown run. Miller injured his left shoulder and did not return after rushing for 10 yards on eight carries.
___
Notes: Former Hurricanes Warren Sapp, Clinton Portis, Willis McGahee, Dan Morgan, and Vernon Carey attended the game. The 1989 national championship team was honored beforehand. Miami finished 9-4 last season, their best record under Shannon.