Triple Play: Most Olympic Appearances
Competing at the Olympics once is an accomplishment. Competing at the Olympics nine times is incredible.
Wednesday, May 9, 2012 | Updated 9:46 AM EDT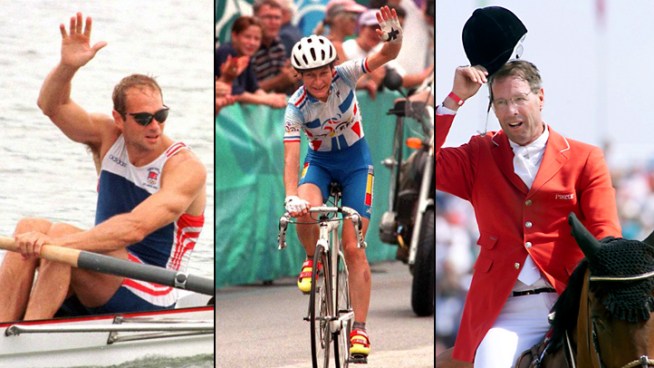 British rower Sir Steve Redgrave (left), waves during the men's coxless pair at the 1996 Atlanta Olympic Games, where he won his fourth consecutive Olympic gold medal. French cyclist Jeannie Longo-Ciprelli (center) waves after winning the gold medal in the Women's Individual Road Race during the 1996 Olympic Games in Atlanta. Canadian equestrian rider Ian Millar (right) tips his hat at the 2008 Beijing Olympic Games.
Ian Millar (9): Equestrian rider Ian Millar, 62, shares the record for most Olympic appearances — nine! — with Austrian sailor Hubert Raudaschi. However Millar might eclipse Raudaschi this summer in London when he represents Canada in his 10th Olympic Games (he'll also be the oldest athlete at the Olympic Summer Games). Millar has won one silver medal (in Beijing in 2008) over the course of his Olympic career.
Jeannie Longo-Ciprelli (7): French cyclist Jeannie Longo-Cuprelli is also no stranger to the Olympics. Qualifying for her first games in 1984, she's been at every Olympic Games since, winning four medals over the course of her career including gold in Atlanta in 1996. Longo-Ciprelli said the Beijing 2008 Olympic Games would be her last Olympics.
Sir Steve Redgrave (5): Knighted British rower Steve Redgrave is an Olympic veteran. He competed at five Olympic Games beginning with the 1984 Los Angeles Summer Games. Redgrave won gold at every Olympics he competed in, and is regarded as one of the greatest rowers of all time. He's one of only four Olympians who've won a gold medal at five consecutive Olympics.