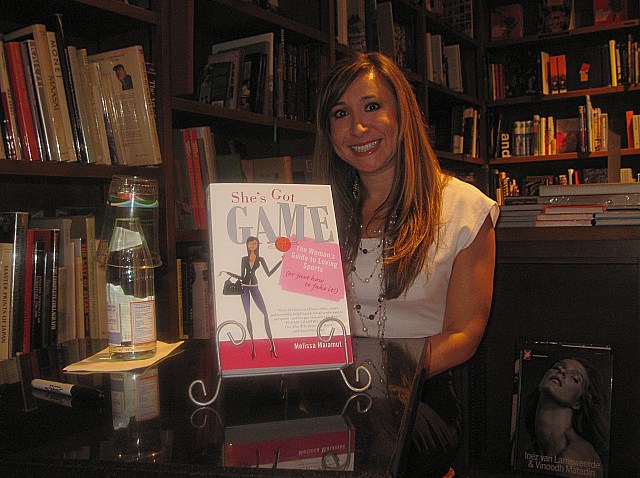 Sports guru-turned-author Melissa Malamut is helping coach women on how to get game -- or at least understand it.
Speaking at Books & Books last night, the former ESPN researcher penned "She's Got Game: The Woman's Guide to Loving Sports (or Just How to Fake It)" -- a playbook for women who are absent-minded when it comes to athletics. Her tips Thursday night, on the cusp of LeBron James' decision to sign with the Heat, were very apropos.
"A lot of woman are sports fans and that's great," Malamut said. "But it was interesting when I started taking my friends to their first professional games ever, and I was shocked they had never been."
"Basically, you don't have to be a tomboy to love sports."
Covering all the bases, Malamut pulls experts from ESPN Magazine and Marie Claire to create a guidebook that includes everything from a glossary of sports terms, phonetic spelling of pro athletes' names and wardrobe must-haves to even the best times to hit up the bathroom lines and concession stands.
"This isn't about impressing a man," Malamut assured. "It is my experience that being one of the guys doesn't always transfer into being one of the guys' girlfriends. It's about being able to watch a game on TV or going to a game live and being comfortable."
Still, that doesn't mean the SoFlo sports fanatic -- who admits Miami holds its own playbook when it comes to game-day dress code -- will be shedding her stilettos anytime soon.
"Miami's different, they wear high heels to everything," she said, laughing. "Basketball is one of the only sports where you can get away with high heels, it is the dressiest of all the sports."