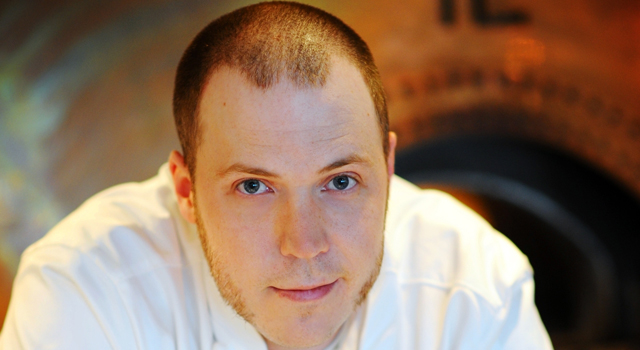 Executive Chef Seth High of da Campo Osteria, located in the il Lugano Suite Hotel in Ft. Lauderdale, is no stranger to variety. As part of Chef Todd English's culinary team since 2005, High has seen his fair share of kitchens -- as a sous chef for an NYC Italian restaurant, as an Executive Chef in a New Orleans French brasserie and even opening up Eva Longoria's Latin-inspired steakhouse. We were fortunate enough to get High out of the kitchen (and off of the golf course) to answer a few questions.
You've worked in several different kitchens. Which has been your favorite environment thus far?
As much as I love and will always adore brasserie fare, the concept at da Campo is my favorite thus far. It reflects my approach and values in food, cooking, and service better than any of the other formats have so far, specifically that we can serve straightforward, rustic, heartfelt food in a convivial, friendly manner with a minimum of stuffiness and stoicism. In short, that excellent food needn't be enjoyed in a serious, formal atmosphere. We make as much in house as we can, from breads to pastas to mozzarella and sausages. We work hard to cook with a sense of joy, and since ours is a wide-open kitchen, we're able to interact with the guests and be a part of the full dining experience.
How would you describe South Florida and its dining scene?
Eclectic. It's fascinating to see the Caribbean and South American influences in the culture and cuisine. It's also apparent that the scene has evolved greatly in the past few years, with the influx of national chefs and restaurateurs, as well as the explosion in native-grown talent.
What interested you in making the move to South Florida?
When Todd began to discuss da Campo, I became very excited. I had been a sous chef at a restaurant in New York where we made the tableside mozzarella, and my learning and studying in the intervening years gave me some ideas about how we could expand on the format. The concept as it evolved continued to be interesting to me, with the ingredient driven approach and the scale of the restaurant. I also enjoy the service challenges of being in a hotel and taking care of guests from welcoming lemonade in the lobby, to dining, room service, lobby bar snacks, and continental breakfast. But in reality, it was to be able to golf 12 months a year.
At what point did you realize you were destined to be a chef?

I always say that the job found me. I had parents who believed passionately in shopping at Farmer's Markets, were members of food co-ops, big believers in whole grains and organic goods, and avid gardeners. They weren't great cooks, but very well intentioned. Thus, I have several memories from childhood of rapturous encounters with herbs and vegetables. Also, the job's various necessities of being a craftsman, planner, accountant, and leader fit nicely with my personality, and present me with a constant variety of challenges. Looking back, it's fitting that I've wound up a chef, but it was rarely clear along the way.
The 5 ingredients every home kitchen should have?
Sea salt, pepper in a pepper mill, excellent olive oil, garlic, and a chunk of Parmigiano reggiano. Accept no substitute. Even when I made very little, I still found a way to afford myself a little chunk of it. All you need is some pasta for a great dinner.
The 5 utensils every home kitchen should have?
A decent knife, a properly seasoned and cared for cast iron pan, a good nonstick egg pan, a mortar and pestle, and two wine bottle openers (always have a back up).
Which chefs inspire you?
Of course, Todd is a great inspiration, the way he interprets Mediterranean comfort food and the way he is able to elevate humble ingredients and rework them in uncommon ways. I'm also informed by the "less is more" ethos of Marco Pierre White's late career, and the naturalistic, minimal approach of Michel Bras. There is a chef in Modena, Italy, named Massimo Bottura by whom I'm fascinated; he does very traditional Emilia Romagna food right next to hyper modern interpretations of classics like insalata Caprese and tortellini in brodo.
Your fondest food-related memory?
My parents, as mentioned before, were well intentioned, if somewhat lacking cooks. However, my father's love of deep-dish pizza was almost fanatical, and for much of my youth, Saturday evenings were pizza night at the house, and all four of us were involved in the production and had our jobs. Dough was made from scratch, mozzarella and Parmesan cheese were grated fresh, pepperoni was sliced, sausage was browned and drained, and mushrooms were sliced. I made the sauce, it seems, every week for years, slowly perfecting it, tweaking the recipe. My sister and my parents joined in the production of that hearty, thick, cheesy pizza, and it is a cherished memory.
Favorite dish to make at home?
Grilled cheese sandwiches. It's always been my favorite comfort plate of food, and still is. Now, though, I use much better cheese (sometimes: American cheese is still always in the fridge).