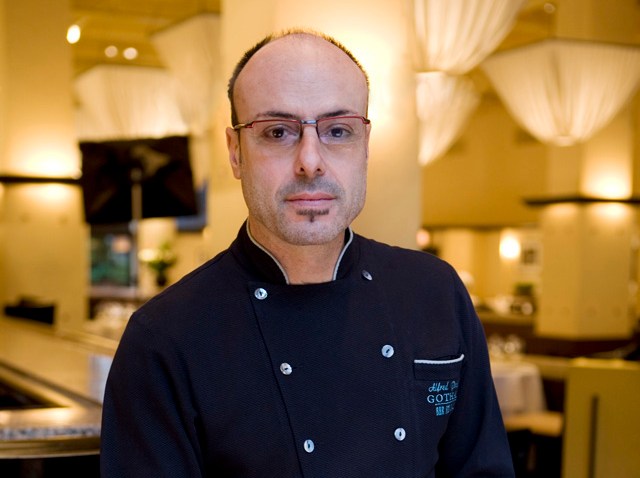 Alfred Portale is bringing a little Gotham to Miami. Chef Portale of the highly acclaimed Gotham Bar & Grill in New York just opened his first restaurant outside Manhattan in, where else? The Fontainebleau. Equipped with a cellar filled with more than 500 wines from around the world, Gotham Steak features a raw menu, fresh fish entrees, and of course, plenty of steak. Don't miss the late-night Grill Menu available 'til 2:30 AM on the weekends. Below, Portale talks about his mom's red sauce and meatballs, his beautiful shellfish tower and the best pastry chef in America.

I'm sure all the dishes on each of your menus are like your children, but if you had to choose only one dish from the menu, which one are you most proud of?
I would have to say it's our beautiful shellfish tower. In fact, I designed the tower myself. It has four tiers of aqua glass trays and a beautiful stainless steel base that spins, allowing our guests to share "lazy Susan" style. It includes chilled oysters, clams, giant shrimp cocktail, Florida stone crab claws, Alaskan king crab and poached lobster. It's a great way to start dinner.
What is the most popular item on the menu?
Our 12-ounce prime aged, charcoal grilled filet mignon.
How would you describe Miami's dining scene?
Fun, sexy, adventurous and sophisticated.
With the influx of steak houses opening, what separates Gotham from the rest of the pack?
One is our beautiful setting inside the lobby of the fabulous Fontainebleau hotel. We have a two-story, 24,000 bottle wine rack. We have a sincere commitment to the highest quality ingredients and local seasonal products. All of our steaks and chops are grilled over hard wood charcoal. And, we have the best pastry chef in America – Josh Gripper.
What are the ingredients every home kitchen should have?

Extra virgin olive oil, Fleur de Sel, anchovies and smoked paprika.
What are the 5 utensils every home kitchen should have?
A garlic press, a sharp chef's knife, a good pepper mill, a hand emulsion blender and an instant-read thermometer.
What is your fondest food-related memory?
Having grilled steak and lobster over a wood fire at the beach.
What is your favorite dish to make at home?
My mother's red sauce and meatballs.