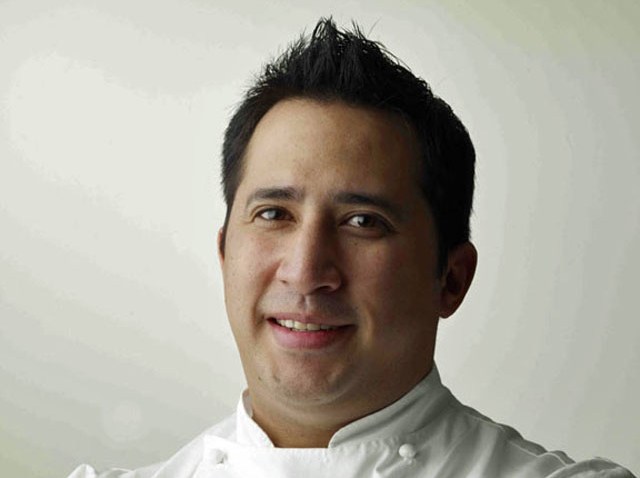 Beauty, sin, sparce clothing -- all are adjectives that could easily describe South Beach, and now, one of its newest restaurants, Eden. Located in the old Talula spot, Eden is described is a destination "where guests can enjoy food, drink, nightlife and culture." Focused on the "food" part of that equasion is Christopher Lee (James Beard winner, "Top Chef Masters" alum), who is psyched about serving up dishes using locally grown ingredients. Here, the Long Island native shares his thoughts about Miami's culinary scene and what ingredient is overrated these days (we're just glad it isn't truffles).

What fresh, local ingredients are you digging right now?
We have a full herb garden in the back of the restaurant where we grow mint, basil, thyme, cilantro, rosemary, and garlic chives among many others. We are also getting fresh, local heirloom tomatoes. Another farmer just brought us a case of local sweet corn, which will be highlighted in a special of the day. We are utilizing local fish for the "market fish" dish, such as black grouper and red snapper. And the micro greens that are used to garnish most dishes are also being supplied by various local farmers.
The one dish/food/ingredient you think is overrated right now?
Kindai tuna. It is way over priced and really no better quality than great blue fin tuna.

First impressions of Miami's culinary scene?
To be honest I am still learning the eating behaviors in Miami. I do love the youthful mentality of the people and their laid back attitudes. I enjoy being influenced by the local cuisine and product supply. I think there are really great chefs and restaurants both in the city and on the beach; I truly hope the local and foodie communities are able to embrace us the same and get excited to come back for more.

Five ingredients every kitchen should have?
Citrus, spices, herbs, vinegars, and fresh products.

Best cooking advice anyone ever gave you?
Respect the product and the people that produce it.

Favorite dish to cook at home?
Pasta, definitely. Any and all kinds, especially when my two-year-old son tries to help!

Favorite food memory?
Cooking classical Cantonese food with my grandfather.

If you could only eat one dish for the rest of your life, what would it be?
Sharp Italian Hoagies from Primos in Philly.

Where would we most likely find you when you're not in the kitchen?
I would like to say the beach, but that does not happen so often. So, most likely at the park with my kids.