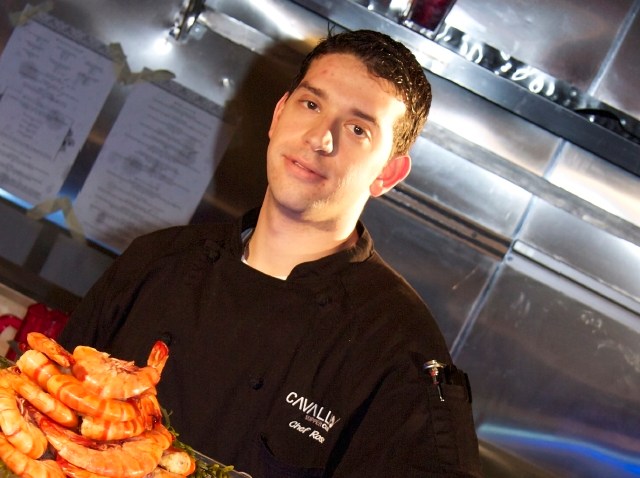 Imagine this: you walk through a door and are greeted by girls in bright red dresses. Waiters are serving up sexy cuisine, and bartenders are pouring cocktails everywhere you turn.
At Cavalli Supper Club, this is what you get and so much more. The Aventura hot spot is designed to transport you to a new and redefined dining and nightlife experience: at the Supper Club, you can spend your night dining, partying, or maybe a little of both.
One of the men behind all this is celebrated chef Ross M. Stern of the St. Regis and Ritz-Carlton Hotels. Stern brings Sicilian-inspired cuisine to the forefront of the menu at Cavalli, with Italian dishes traditionally found in Sicily. Menu items leave patrons satiated and light for the rest of the evening's revelry, which is exactly Ross's intention. From rare selections of caviar to the cured wood-smoked salmon, there's something on the menu to make everyone happy.
Chef Stern sat down with us to tell us a little bit about his restaurant resumé and to explain to us exactly what a "supper club" is.
I'm sure all the dishes on each of your menus are like your children, but if you had to choose only one dish from the menu, which ones are you most proud of?

The smoked salmon. This dish has been the most well received and talked about by our guests.

Most popular item on the menu?

Our all-natural pinwheel of beef skirt steak, stuffed with roasted peppers, onions, fresh basil, and cilantro topped with crispy Tuscan fries and garlic aioli.

How would you describe Miami's dining scene?

Erratic, trendy, inconsistent, over-hyped.

Your menu has an Italian focus. Is that your specialty?

No, it is not. My specialty is feeding hungry people. The reason I got into this business was to please people, and one great way to accomplish this goal is to fill emptiness where a void exists. However, to answer your question more completely, seafood cookery is my calling card, and I showcase the spirit of southern Italian cuisine with our variety of oceanic offerings cooked in a deliberately simple and rustic manner.

You have been working in the kitchen since you were 14. What do you love about it?

The reason I love being a chef is the excitement. You never know exactly what you are going to walk into when entering a kitchen. This career can keep you young by keeping you on your toes everyday. You spend so much time within the same four walls that it insulates you from everything else.

What exactly is a "supper club?"

Dining, dancing, lounging. Simply put: nightlife without scrambling to a fast food joint or grease box diner for a late night bite.

You have turned your travels into world-class dishes. What part of the world has inspired you most?

New York! The diversity and demand, different styles of cuisine, quality of products and quantity of delivery, makes Floridian cuisine pale in comparison.

At what point did you realize you were destined to be a chef?

When I was 16, I was working part-time as a food runner and busboy at Sal's Pizzeria in West Boca Raton. I got promoted from the food runner to expediter. It allowed me to see a raw product come to life. I enjoyed dressing up products and putting the finishing touch on each plate before it reached the guest.

The 5 ingredients every kitchen should have?

Parmesan cheese, olive oil, Diamond Crystals kosher salt, eggs, and white pepper.

The 5 utensils every kitchen should have?

Rubber spatula, tongs, a really sharpe knife, peeler, and large spoon.

First dish you learned to make?
Scrambled eggs. My father taught me how to make scrambled eggs, it is the only thing he knows how to cook.

Favorite dish to make at home?

Smoked chicken Baton Rouge. The reason this one sticks out over the rest is the bold flavors of smoke, spice, and moist poultry flavors.

Favorite food-related memory?

Is the first time I smelled funnel cakes and churros at Busch Gardens in Tampa at age 12. I was paralyzed by the aroma, and to this day still have déjà vu of that day whenever I smell dough frying.