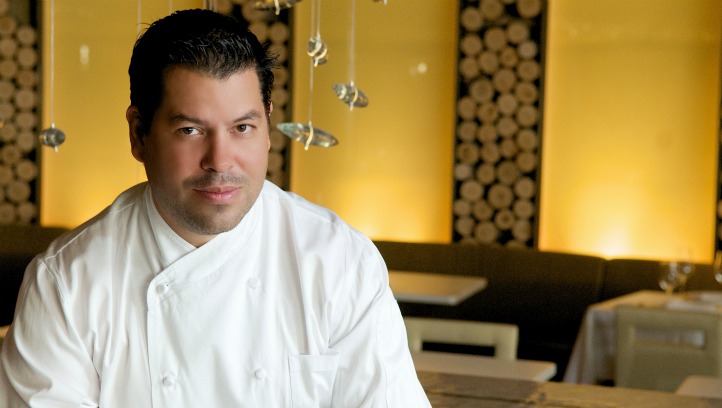 A true marker of a good chef is how he or she prepares a steak. And whether you like it thin and well cooked or thick and juicy, Chef de Cuisine Todd Miller's the man to go to for everything steak. Before taking up the helm of his current post at Fontainebleau Miami's Gotham Steak, he ran the kitchen of the famed STK New York. The Utah-native started out as a young, fresh-faced sous chef at the Four Seasons Hotel in Las Vegas. Miller even earned the title of Zagat's number one-rated restaurant in Utah while at Fresco and Café Trio. Fast-forwarding back to today, he tells us all about his life as a chef and what Miami reminds him of.
I'm sure all the dishes on each of your menus are like your children, but if you had to choose only one dish from the menu, which ones are you most proud of?
That's a really tough question!! For me I'm an avid fan of seasonal items and trying to use vegetables and fruits at their peak and what makes me really excited this time of the year is all the fresh vegetables and fruits that the market has to offer. Off the top of my head what sounds really delicious is pan roasted sea scallops with Fava beans – English peas – shaved radish finished summer truffles and a bergamot lemon emulsion.
Most popular item on the menu?
Steak of course and what makes it special here is the mesquite wood that it's cooked over.
How would you describe Miami's dining scene?
Miami's dining scene is very educated and knows what they like. It also reminds me of when I lived in Singapore, which was an amazing point in my life. Brings back great memories.
The secret to cooking perfect pasta?
Have some of the pasta water reserved, always use good olive oil and high quality parmesan or cheese, fresh vegetables and if using seafood try to use the very same day that you bought it. A good, simple pasta for me that's quick and delicious is Cavatelli with fresh rock shrimp, sweet cherry tomatoes, summer corn and fresh basil.
At what point did you realize you were destined to be a chef?
When I was in college and realized after working in restaurants to pay tuition was where I really wanted to be. It just brought back so many memories for me when I was a kid and cooking with my grandfather or running home from school to have a slice of warm bread slathered with butter and fresh preserves that were just made. One word: DELICIOUS!
The 5 ingredients every kitchen should have?
For me sea salt, good virgin olive oil like Olio Verde or Laudemio, pimentone', fresh market vegetables and don't forget your fresh in season fruits.
The 5 utensils every kitchen should have?
If you're a foodie or love to cook, you should always have handy a Japanese mandolin, sharp knife, vita-mix variable blender, a good pair of tongs and your favorite spoon.
First dish you learned to make?
Cinnamon Toast with my sister; we would both wake up on Saturday to watch cartoons while eating warm toasted bread with an insane amount of cinnamon sugar and melted butter. Good time's that was!
Favorite dish to make at home?
For me I really have no favorites so this question needs to be asked depending what mood I'm in…Right now I'm craving simple fresh grilled prawns with avocado, crushed tomato and roasted chilies.

What's your favorite food to eat? In other words, what could you live off of for the rest of your life if you had to?
If I was stranded on an island and had to pick something from there it would be mangoes. I love mangoes when they are ripe but still firm and could eat one after the other.
Tell us a little more about your restaurant.
Gotham is a modern American steakhouse that has a great balance of items for everyone even if you don't want steak we have an awesome selection of salads and composed entrees for you to pick from.
If there's one tip or piece of advice you could give to all aspiring chefs out there, what would it be?
To remember why you are here. For me I would never change what I do since this is what I was destined to be, a chef. I truly love what I do and all I can say is strive to be the best, never compromise with quality and your last dish going out for the night should be as good as the first. If you follow those simple pieces of advice you should be well on your way.