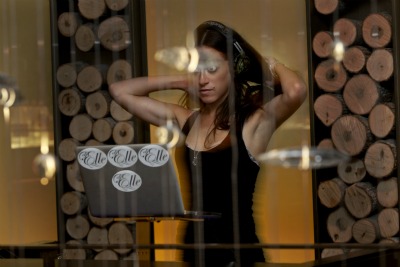 Yep, you heard correctly. A certain Fontainebleau feastery has come up with yet another way to sway the swells, and the swells are swinging in with a fervor not seen since the fabled place re-opened its gilded doors. We're talkin' 'bout The Lounge at Gotham Steak, a16,000 square-foot spread of swank that'll have you thinkin' speakeasy while gazing out over an ocean that ends in Old Havana. Putting the perfect beat to the scene is none other than DJ Elle, who brings her patented blend of high-minded pump and grind to a scene that simply needs to be made to be believed. What are you waiting for?
Wanna tell us about your new residency? Yes! I'm DJing at Gotham Steak's new Lounge in the Fountainebleau Wednesdays through Saturdays. Wednesday & Thursday I'm on from 8 pm-12am. Friday & Saturday nights it's 9pm-1am.
What's the scene like? The scene is people having dinner or hanging out/ eating and drinking or watching a game at the bar... It's a cross-section of young and older, hotel guests, tourists, locals... It's a sexy fun mix of people.
Does your spin pick up proportional to the hour at hand? Indeed it does. I'm playing a mix of Classic Rock and '80s that starts off chill and gets louder the later it gets.
What's hottest on your playlist? At Gotham I love playing Jimi Hendrix, Led Zeppelin, Rolling Stones, Phil Collins, Creedence Clearwater Revival, James Brown, Al Green, Tom Petty, Aerosmith, AC/DC, ZZ Top, Marvin Gaye, B-52's & so much more!
Aren't you also in residence at The Clevelander? Yes, I'm at The Clevelander Monday's at the pool 3-8pm and also Thursday nights in the 1020 Lounge 12:30-2:30.
What kinda spin to you work for those folks? At The Clevelander on Thursdays it's more open format -- Hip Hop, House, Electro, Rock. On Monday's at the pool I play everything from Bob Marley to Motley Crew to Jay-Z.
Word is you've got a rather rad mix tape circulating. Care to share the deets?
Yeah , I recorded this mix Something Midnight: Live in Miami. It's a mix of tracks I like and don't really get to play in the club that often. I've gotten really good feedback on it. I'm glad people are into it as much as me. It's a mix of Hiphop, House, Dubstep, Disco & Rock. Now I'm working on a new one! If you haven't heard the mix you can download it on my podomatic site.
What else do we need to know about DJ Elle before we go-go? I'm working on a few different projects right now: a collaborative mixtape with an amazing Miami-based photographer, and another mixtape with one of my DJ friends from NYC. I also try to update my blog on the reg so there's always good stuff on there.