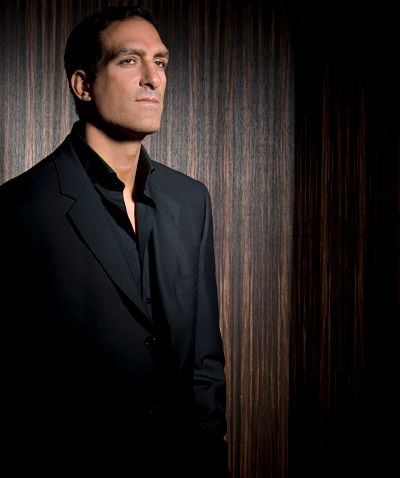 Former Miami Heat star center Rony Seikaly's court moves might have been the initial reason he was christened "The Spin Doctor," but his post-NBA run as a DJ is the reason the nickname stuck. Now that Seikaly's gone Subliminal with the moniker, it's a good bet he'll never be known as anything else. Hear why on Saturday night at LIV.

How'd you get into spinning? I started DJ-ing when I was 14 and always had a DJ set up in my house. Later I'd spin parties in my house, but never more than that. Then it just started growing and I played for people like Erick Morillo and they were shocked to see this basketball player DJ-ing. They all asked me to do it publicly but I kept it as a passion slash hobby. I did it because I loved it and for my friends. I didn't want to make a business out of it. I played the first time publicly in one of the clubs I own and Pete Tong and Erick Morillo showed up and thought it was for real.

Were there any other "name" DJs who also helped lure you back to the decks? A lot of DJs and friends always pushed me to play publicly, but because of my business side I always had reservations with the persona it might give me from a business perspective. Then I went to some of the business people I trust -- some father figures -- and they thought it was great and shouldn't affect anything. What I do in the day shouldn't affect what I do at night. It's simply following my passion. If I was a business man who decided to paint and do exhibitions at night nobody would judge me, so I look at it the same way.

Back to Morillo, didn't you release something through his Subliminal Records over the summer? Yes, the first single I released -- "Come with Me" -- became a big hit and reached top 40 on Beatport. It was a 5AM anthem at a lot of clubs. It was fun to be in places like Germany, Greece and Ibiza and here my track being played. It's exciting when others play your music. Things are going the way they are supposed to and I'm just trying to be legit in the music business as a real DJ and producer.

And isn't there now an LP too? My on court nickname was "The Spin Doctor," so it was a transformation to the DJ world of now literally spinning. We merged the name 20 years later and we're now doing house calls instead of basketball calls. The mix features a lot of my own original tracks and other tracks that I currently play out as a DJ.

I've heard your sound described as "Rony Style." Erick labeled it that. A lot of people ask me what it means and I can't pinpoint it. It's not a genre. It's a combination of many styles. It's underground but happy. People have problems in their lives and when they hear happy music they generally like it. Otherwise, most DJs in the club are playing the same style. So when people hear me they are getting different tracks than they hear elsewhere but also with happy vibes.

So at LIV dance fans can expect to hear what kind of tracks? I play different sounds. At LIV it's commercial, so I'll play a little higher energy and more vocals than at underground clubs. You'll probably hear some of the track I featured on the compilation such as "Come with Me" and "Let You Go."

In addition to being a DJ, you also happen to have co-owned a small slew of South Beach hotspots. How did that initially come about? I've been partners with Nicola Siervo for 20 years and we started Bar None in the early '90s. Then he and I partnered up on MYNT and from there we opened Mokai and Wall. Karim Masri became a partner at Mokai. I just wanted to be around music and I love it. I invested in these clubs to be around music. As an athlete you have to walk a fine line between clubbing and going out. I'm not a drinker and went out not to party but to listen to music.

Wall recently underwent a transformation. While we've got you, wanna tell us a bit about it? Wall is a beautiful small, quaint club. A lot of people don't like big clubs because they don't want to deal with a lot of people. We went through a transformation from big clubs in the '90s to smaller, sexier clubs in the 2000s. In terms of change, clubs were not DJ driven in the past. Now, DJs are the centerpiece of what you're doing. These days the DJ needs to be in front of the floor so we morphed the Wall space into a small little club by putting the booth in the middle of the action. The booth used to be off to the side.

Didn't you and your partners expand to New York too? Yes, I'm also a partner in the restaurant Quattro on Lincoln Road, and we expanded into Trump Soho.

Do you have anything else in the works you can give us the lowdown on? There's a lot of interest to expand the Quattro brand and we're opening in Mexico and other places. Right now we're looking at different options.
Follow us on Twitter at NitesideMIA.