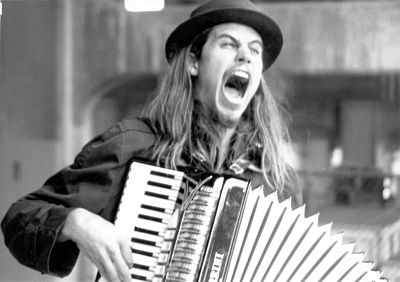 It's not easy being an accordion troubadour. There's a whole wild world to travel and a hearty host of songs to be sung. Then there's the dispelling of the notion that the squeezebox is only good for polka. When you pal around with people like Regina Spektor and Devotchka, however, not to mention Dresden Doll Amanda Palmer, well, the only polka probably comes with a dot. Such is the life of Jason Webley, who's bringin' his rousing one-man show to Jazid tonight. See. You. There.

What the hell's an accordion troubadour? I travel all over the world singing songs and playing the accordion. I also play guitar and piano, but people don't seem to remember that.

How many countries has this all taken you? I don't know... let's count. The US, Canada, Mexico, Australia, New Zealand, Spain, France, Ireland, the UK, Belgium, Netherlands, Germany, Italy, Austria, Hungary, Czech Republic, Slovakia, Ukraine, Moldova, Poland, Lithuania, Latvia, Russia and Morocco. So that's 24 if I'm not forgetting anything.

Any particular city you currently calling home? I'm in Greenboro, NC as I type this. My home is just north of Seattle. I've lived in the Seattle area all my life.

How much does where you are affect what you play? It doesn't affect the show that much. I play different things every night depending on my mood and on the energy of the show, but I don't alter the show based on geography much. In Russia I play some Russian songs. I know a few things in a few other languages as well...

Will you actually be playing with Radioboxer at Jazid? We are playing separate sets. if there's a bit of time, it could be fun to rehearse something together. But we are just doing this one show in Miami together. I'm on a huge 60-show tour right now.

How'd that connect come about anyway? They discovered me on MySpace back in the days when people used MySpace. When I announced that I was thinking to finally make it to Florida, they were very quick to respond and very helpful. Our music is really different, but they are realy good and so enthusiastic. I really love their energy.

So what kinda racket should we expect to hear tonight? Hopefully a really good racket. A unifying sort of racket.

Jason Webley performs Monday, May 30 at Jazid 1342 Washington Avenue Miami Beach. Showtime is 9pm. For more information call 305-673-9372 or log on here.