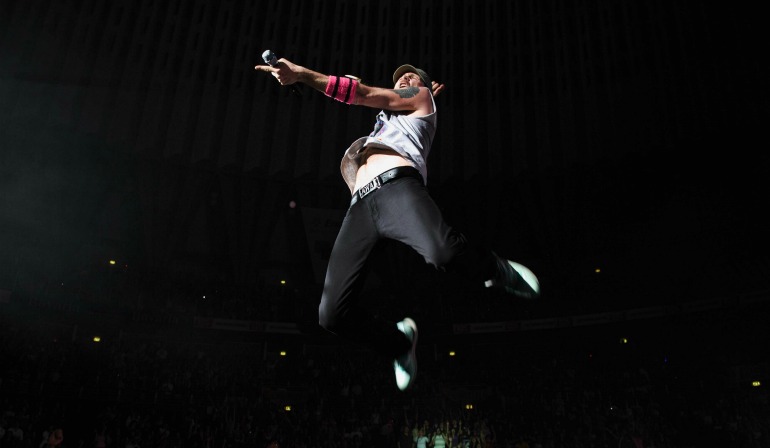 He's been tapped by everyone from Gogol Bordello (to play Bonnaroo) to TV on the Radio (to play Carnegie Hall) to Juanes (with whom he's both staged and sang). He's paid tribute to the Sugarhill Gang ("Rapper's Delight") and George Gershwin ("I Got Rhythm"), and has in turn been paid tribute by The Sopranos ("Piove"). He's perhaps Italy's #1 musical export, and until now he's never played the MIA. He is Jovanotti, and now that Poplife and The Rhythm Foundation have teamed to bring him in for a super secret Friday show and a Saturday standing at Grand Central, Miami has come . Expect a merry mob scene.

Have you hung out and/or recorded in Miami before? Oh yeah, at the beginning of the '90s I spent lot of time in Miami, I was really crazy for Miami. Then from... let's say '94, it started to change and
became more rich and "cool" and magazines started to talk about it and at the end it was not as interesting for me; it lost some of that romanticism that I loved when I was here in '91, '92. Anyway, some years ago we came here to spend a new years eve with my family and we had a great time. I love this Latin flavor of Miami. I am a big fan of Afrocuban music and culture and in that sense this is the place to be.

Why has it taken you so long to perform here? I don't know really,I was never interested in working outside Europe so much because there was not enough interest from the outside to work with me. Actually, I didn't come because nobody really asked me. Love happens in two, somebody have to do the first step, and I didn't. Now somebody in Miami did it.

What kinda set can fans expect at Grand Central? It will be wild and live. Free and hot. Jam session, dance funky Latin Meditteranean sound, something "different" from everything else. I have a global band here in the US -- Italians, Brazilian, Argentinians, New Yorkers. It will be a party, deep and vibrating. I will play tracks form the new album but also thing from the past in a super live set.

How about at that secret show the night before? There I will be a crooner. Minimal set, no rehearsals. We will build the set from the atmosphere of the place. Total spontaneous music.

Will you be performing anything from your collaboration with Juanes at either show? I didn't prepare anything but anything can happen. I love Juanes, he's a great artist and wonderful person. I really consider him a maestro.

How'd you and Juanes connect anyway? I knew Juanes' music before I knew him. Once we met in a TV show in Spain and I discovered he knew my music; it was a beautiful surprise. He was not popular yet in Italy but I had his first album and I liked it. He's a real treasure and pride for Latin culture. He' s a gifted generous artist with a lot of talent.

Any chance of the two of you staging again anytime soon? I hope so. I hope to meet him tomorrow in Miami so we will talk about it.

Jovanotti plays Saturday March 10, 8pm at Grand Central 697N Miami Ave Miami. For more information log on here.