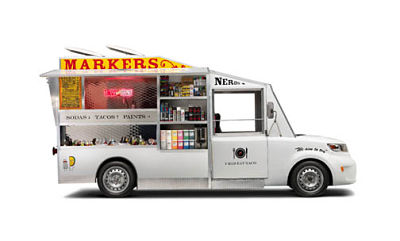 It's been four years since the keen-eyed Kenton Parker exhibited completely solo. Since then he's made a point of making LA his own private laboratory. The streets, the people, its myths and its legends, have all become part of Parker's personal quest, even as they became fodder for his art. At Primary Projects this Second Saturday, the bright idea man unveils It Takes All This to Be Me. Niteside got some details.

Wanna tell us a bit about It Takes All This to Be Me? It's about a scatterbrained Virgo trying to manage ten different personalities but most importantly about a young man trying to grow up.

Word is you created four roles and filtered them through four forms -- can you elaborate on that? There's the vagrant, the journalist, the graphic designer and the taco vendor, and each are filtered through film, sculpture, installation and traditional wall-based art. What's funny about this is that I did not do it intentionally. Primary Projects picked up on that and brought it to my attention.

Isn't there also some kinda tie to Richard Prince? I admire Prince, but I think it's more about the appropriation associated with the art in my generation. It's about social commentary inspired by the culture.

Any other iconic nods within the exhibit you'd like to mention? Ed Kienholz and my mom.

Speaking of icons, how'd you come to show at Primary Projects? Met BooksIIII at a seedy hotel bar in Atlanta, then worked on a lot of murals in Miami with Primary Flight. Continued this for half a decade. We were always looking forward to this project.

Did you have their space (and that contingent) in mind from the get? Maybe. They had their space in mind for me. At the moment I agreed to work on this project, I had their space in mind for this show.

Anything else we need to know about It Takes before we go? Everything counts in small amounts.
Kenton Parker's It Takes All This to Be Me opens Saturday October 8, 7-11pm at Primary Projects 4141 NE 2nd Avenue Miami. For more information log on here.