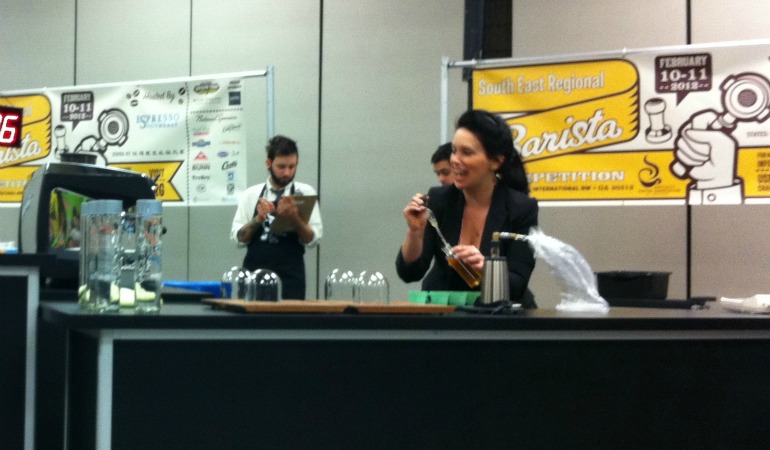 Miamians already well know that Wynwood's Panther Coffee is not only our town's most popping java spot, but it stocks and serves some of most exclusive (and delicious) blends ever grown. That Panther roasts its own beans is part of its top secret; that its staff consists of the best and brightest baristas is another. Leading the line-up is Camila Ramos, who made the Final Six in last weekend's Southeast Regional Barista Competition, putting Panther -- and the MIA -- smack in the national spotlight.

Wanna tell us a quick bit about the Barista Championship? The Specialty Coffee Association and Barista Guild of America hold competitions annually at regional and national levels. Each barista has 15 minutes to prepare four espresso, four cappuccinos, and four signature drinks. They are judged on quality of beverages, technical criterion, coffee knowledge, cleanliness and professionalism, amongst other things.

What exactly did your part of the competition entail? My signature drink was a play on the Miami classic "cortadito." Rather than using white sugar, I used a two-hour guarapo reduction. I wanted to emulate a proper Cuban experience, so I extracted tobacco aromas via vaporization, which were collected under a glass dome to be released before the cortadito was sipped.

How many other baristas did you go up against? In the semi-finals round, 28 barista competed. Six progressed to the finals.

Were you at all nervous going head-to-head with such an impressive array? Extremely nervous! I tried to play it cool, but it was so important for me to properly represent Panther Coffee. The competition was fierce for sure; most of the finalists have been in the industry for 6+ years; all of them previous competitors. I heard some whispers that this was the most impressive year yet in the Southeast.

How did it feel to be the de facto rep of Miami anyway? In the industry, Miami has been viewed as a city where it would be impossible for specialty coffee to thrive. It felt amazing to be able to put Miami on the map as a specialty coffee destination. Miami is different from other US cities in that its locals hail from coffee producing countries themselves. That connection is special. I actually dedicated my signature beverage to Miami, a city that has embraced specialty coffee on a completely unique level.

Where do you go from here? The United States Barista Championship will be held in Portland, in April. I'm stoked to have the opportunity to represent us on a national level. The winner of the USBC will represent the United States at the World Barista Championship in Vienna, this year.

You can catch Camila -- and grab some of that joltin' java -- each and every day at Panther Coffee 2390 NW 2nd Avenue Wynwood.