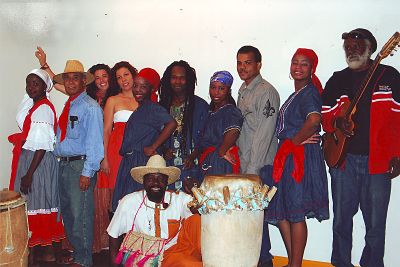 To list the many, many ways The Rhythm Foundation has enriched Miamian's lives would take a whole website, so we'll just say they're the tops. This Friday night, our town's leading purveyors of world sound and vision are launching Big Night in Little Haiti. Since this also promises to enrich us all in ways too numerous to mention, Niteside got with RF Director Laura Quinlan and asked her to fill us in.

Friday night marks the start of Big Night in Little Haiti. Wanna tell us a bit about it? Big Night in Little Haiti is a new monthly series that takes place every third Friday. The main event will be held at the Little Haiti Cultural Center and it'll include great Haitian music, food, art and culture. This Friday we will feature two great locally based Haitian roots bands: Jean P Jam and Rara Kuyu, and Universal Soul Love, who'll both be on stage in the Center's beautiful plaza.

There are also some coincident events. Can you fill us in? In addition to the free concert, the food (Chef Creole!) and arts & crafts at the Center, we have also created kind of a neighborhood Open House, to make it truly a Big Night. Surrounding the Center are a lot of very cool cultural centers, artist studios, restaurants, venues and shops. And we have put together a calendar of events taking place throughout the night in all parts of the neighborhood. The adjacent Haitian Cultural Center Alliance features open studios by renown artist /sculptor Edouard Duval Carrie and photographer Carl Juste. 7th Circuit Studios, just across Northeast 59th Street from the Alliance, has an open studio until 10 p.m., and then concerts by the Nag Champayons and the Moksha Family All Star Jam. And Sweat Records, just down Northeast 2nd Avenue, has the Best of Sweat Variety Show.

What brought about the big idea? I came up with the idea partly in response to the John S. and James L. Knight Foundation asking, as part of the Knight Arts Challenge, What's Your Idea? We had been wanting to do a Haitian concert series for a long time, and also wanting to find a way to use the beautiful new Haitian Cultural Arts Center. It just sort of came together perfectly. We have such a wealth of Haitian music talent here, and there is a lot of interest in the general public to start hearing it more.

In addition to Friday night's throwdown, RF also has a very special something coming up on Thursday. Wanna give us the lowdown? Yes, it is a busy week! No green beer for us this St. Patrick's Day -- we are featuring the rare chance to hear Philip Glass, a true legend, perform his own works in the exquisite Frank Gehry-designed New World Center.

How'd you manage to land the legend? We asked his agent, of course! We co-presented a show with him in 2001, where he performed with West African kora virtuoso Foday Musa Suso. And we continue to be fascinated by his work -- the soundtracks, the collaborations with multimedia and dance, the opera and symphonic compositions. There are not enough words to say about the impact he has on all genres of music, not just world music. Even my kids tell me that all the cool kids love Philip Glass. When the New World Center opened, we worked hard to think of the right performer to put there for the inaugural season, and he was the first choice.

What else is coming up for RF that we should all know about? April means Heineken TransAtlantic Festival, our 9th edition of the modern world music festival. We'll be back at the North Beach Bandshell for two outrageous nights of the coolest new world music happening today, including the long awaited return of Antibalas Afrobeat Orchestra! See you there!

Big Night in Little Haiti starts Friday, March 18, at 6 p.m. at The LIttle Haiti Cultural Center 212 Northeast 59th Terrace, Miami. All events are free.