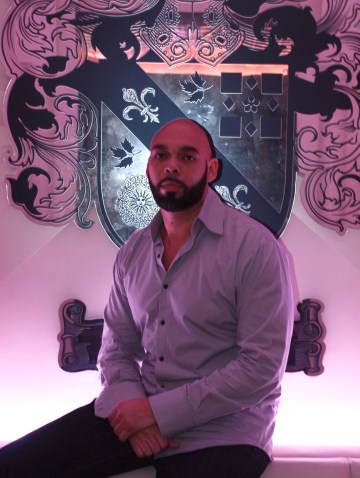 For the past decade and change Richard Filippi has been in on some of the fastest action this town has ever seen. Back in the proverbial day it was Rebar, Union Bar, Glam Slam and Risk. As the Beach reconfigured itself, he moved on to Level and Nikki Beach. For a hot minute, Filippi stepped away from the game and gave us a set of hip hop barbershops called Clippers. And upon his return he slipped into Grass. He's been there ever since, ensuring that the eatery is always in full swing, and overseeing the hot pop of its adjacent The King is Dead. Here the ever hip cat gives up some insight.

You were running clubs on South Beach back when it was still something of an adventure. What was it about the '90s Strip that got it so hot? In the 90s, the Strip was all about personality. You went somewhere because of the characters you would find there. From the door host to the busboy, the staff were the celebrities and the promoter was the main attraction. That's who people came to see. You got a cool staff and a good DJ, it was on. That's the foundation that put Miami on the map.
Do you see a parallel between '90s South Beach and '00s Mainland? It depends on what part of the Mainland we're talking about. To me, the Design District and Wynwood Arts District are the last hope Miami has for a cool home-grown local scene, which is exactly what '90s South Beach was. Everything else is straight cookie-cutter. This area is headed for great things, slowly but surely. Remember where you heard it.
Back in the day you booked some of the DJs who would go on to great infamy -- namely DJs Khaled, Craze and Epps -- and helped to prove this city produces some top-notch talent. Do you see Miami becoming as known for its creativity as for its parties? Miami is already well on its way to doing just that. There are still a lot of great people out there that refuse to just go with the flow. Those are the people that will be at the forefront of what Miami is to become. Now that I am so involved in the live music scene here, it's not hard to see where Miami's reputation for creativity will come from.
What do you think makes Miami such a perennial party town anyway? I think it's a number of things. The rich history we have for being such a great party town, the fact that people all over the world will continue to be drawn here, the few people out there that strive to build on the scene we have and make it better and the fact that we have the best weather in the world doesn't hurt either.
You're front man at both Grass and The King is Dead. What are some of the main differences between running a restaurant and running a club? Running a club is fun. Running a restaurant is not!
Grass has a relatively new chef and a new menu. Want to give us the details? Grass is in the process of recreating our menu. We tried to go the celebrity chef route, but it just doesn't work for us. We want to be known for good food, great ambiance and friendly service. It's been a learning process, but we are well on our way.
The King is Dead is also poppin' with a hot roster of parties. Give us the lowdown. The King Is Dead is on its second month hosting The Live Series every Friday and Saturday. We feature amazing live local acts every weekend, hand-picked by Miss Viviana Valdes. The vibe is refreshing, the talent is outstanding, the music is soulful and with hosts like Donna Hughes and Adolphus -- a pair of tried and true local celebrities -- who can go wrong?

On the odd night that you're not handling the action at either the club or the restaurant, where do you most like to hang out? This is where keeping it real inhibits the possibility of looking cool. If I'm not working, 90 percent of the time you'll find me home with the family. I know it doesn't sound very exciting, but with a job like mine what some people call boring I call relaxing.

What's coming up for Richard Filippi? From what I know, what's coming is usually made up of a pinch of what one wants and a handful of what life brings you. My pinch would be to continue being a part of Miami's nightlife but only with projects that I have a passion for. What life's handful does with that remains to be seen.