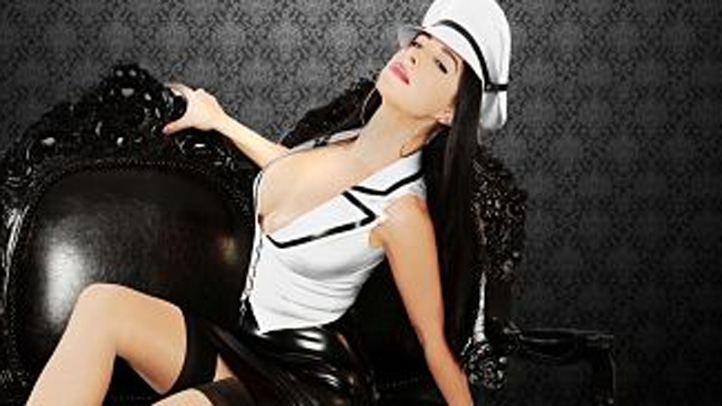 Miami has no shortage of ultra hot chicks -- or of chart-topping music. What we don't have enough of though are ultra hot chicks who make chart-topping music. With Mayra Verónica, however, we've got both -- and then some. The Havana-born, Miami-bred beauty has just cracked the Top 10 of Billboard's Dance Chart with her deliriously catchy "Freak Like Me." Considering her cornering of Antonio Sabato Jr. and her kneeling with Keenan, we're betting this is just the beginning of even bigger beats to come.

Congrats on the new single's success! What's it feel like charting between Kylie Minogue and Britney Spears? Been there done that...ain't nothing changed but the limp... ;-) just messing... truly honored, they've both been in the business so long and so productively, that to chart as a new artist at that caliber is truly an honor.

So this isn't your first time cracking the Top 10 on Billboard's Dance Chart? "If YouWanna Fly" was my Initiation into the American charts, the fact that it was my first song, and to have had it reach that level of success was to me a sign of things to come-- hence "Freak" ;-)

Do you see "Freak Like Me" crossing over to Pop? Absolutely.. It begins its venture into Top 40 Pop radio next week, our team is so psyched, besides between Me and Antonio I think it definitely has more than one shot!!

How did you and Antonio connect? He was my Hollywood crush for a while, so when they told me they were stuck between casting Antonio or William Levy, I made they're decision easier.

Any more collaborations on tap? There is definitely a part two to "Freak like Me", Can it get freakier? Absolutely! In this video Antonio and I meet in an elevator and the steamy scenes go on in my mind.....In part two..... We finally make our way into the bedroom....hehehe

What about shows -- anything coming up? We're getting ready to set off a major cities tour this Fall that I'm super excited about. Think of it as a mix of Dita Von Teese meets Pussycat Dolls. I am working with (Dolls' co-creator) Mikey Minden on it now.

Before we go-go, I've gotta ask: How does one become a "Freak Like (You)" anyway? Keep your Boa and whip handy -- My International Freak Accessories! But don't forget the mystery... it keeps them coming back for more.