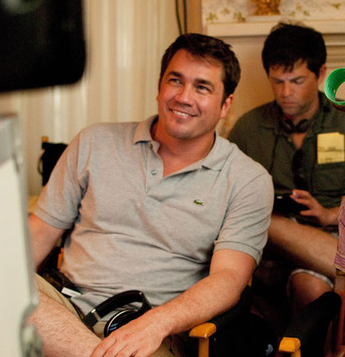 To date, the book "The Help" has sold five million copies, spent over 100 weeks on New York Time bestseller's list, and named one of 2009's "summer sleeper hits" by USA Today. Director Tate Taylor took on the daunting task of turning it into a box office hit, hoping his friend's novel-turned-screenplay would be the help, literally, that takes his career to superstardom. And maybe even the Oscars, perhaps? The flick's busy director, executive producer and screenwriter hit Miami to talk everything from leading lady Emma Stone to his own personal take on the film.

This book is a New York Times bestseller. Did you feel any pressure just from the novel being such a mega success?
I had no pressure. [The author] gave me the rights to the movie when she had gotten her sixtieth rejection letter. I thought I was going to adapt my friend's unpublishable manuscript; we were going to make a good independent film and maybe one day she would be published. Then almost half way through the adaptation process, she got a publisher. And even then, we didn't know. It could have still come out and been not so great. The pressure came on when it became a huge hit and then I realized I had the directing part.

Is it your worst fear to hear the phrase, "The book was better?"
I definitely kept that in mind. I read the book " No Country For Old Men" and loved the movie, but was upset when the teenage girl he befriended was completely gone in the end of the film. So, I kept that in my head. Some things I just couldn't make work, but I was sure to keep important things in. Then it really all came down to casting and location. I knew we had to film it in Mississippi. And we did, because you can't fake it. When it came to casting, there were people we just had to have. Dreamworks, well, everyone made that happen.

I know you are from the South. Did you feel a personal connection to this film?
On 9/11 (the author) Kathryn Stockett and I were on the phone and I said, "what are we going to do?" And she said, "All I wish I could do was be with Demetrie (Kathryn's childhood maid) in my granddad's kitchen, and she's gone." So then, she started writing short stories as an exercise to talk to Demitrie that day. And five years later, Demetrie is "Aibileen" and here's the book. Growing up, I had a co-mother, Carol. And I'm reading it and I thought about our relationship. I was like, 'Wow. I see where they lived. They aren't just maids but these dynamic, smart women who aren't victims. They are just victims of their circumstances.' I loved that.

One of the stars in your film, Emma Stone, is in her early twenties. Did you have any worries that her generation wouldn't be able to relate to this time period?
Emma Stone said it best. People have said, 'We don't want to see this and why are you bringing this up?' Then she said, 'I am embarrassed to say this. Maybe its because I am a 22-year-old woman and am a product of public schools but I have only really known about Martin Luther King and Rosa Parks. I had no idea this happened.' Which led to her explaining, 'Look at this now. People are being told who can get married. And people are being told they are too old to work. Its still around.'

You and Octavia Spencer, "Minny" from The Help, were roommates at one point. What is it like to work with someone you are so close with?
We were roommates for five years! The great thing about Octavia, and Allison Janney too, is that we have been friends for about seventeen years. Especially during the adaptation process, you get to write for your friend and someone's talent who you know so well. It's kind of like a cheat sheet. When you have an actor that you know so well, you hear them while you're writing.

Do you have any expectations for this movie?
What is already happend: that people are inspired. Especially for people to have the courage to talk to each other and raise the stakes.