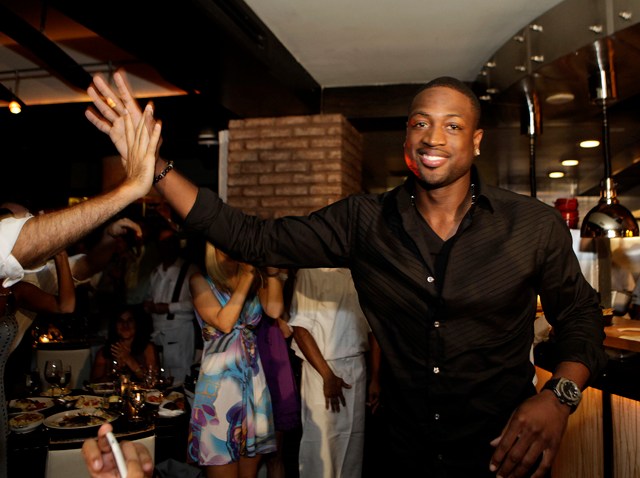 Nobody in the NBA has more style than Dwyane Wade...on and off the court.
"He wants to make sure he's on top," says Calyann Barnett, Wade's personal stylist. "He's always saying, 'What are we coming up with next?'"
Barnett started working with Wade a little more than 3 years ago. Her job: make sure the Heat star is sporting the hottest threads. And the 27-year-old from Cutler Bay is turning in an All-Star performance.
Sports Illustrated recently asked a group of NBA players: "Who has the best fashion sense off the court?"
The resounding answer: Dwyane Wade. He won in a landslide, with 29% of the vote, more than doubling second-place finisher, Kobe Bryant.
"The fashion magazines can acknowledge it," Barnett said. "But when your peers are acknowledging that you have the best style, wow...that means a lot."
Almost anytime you see Wade out of uniform...after a game, at an event, or on a magazine cover, Barnett is behind the look. And she's always shopping for new ideas at local stores such as The Webster, a high-end boutique in South Beach. But the stylist can't take all the style credit.
"If I left him in his closet to put together something, about 9 out of 10 times I'll be happy," Barnett explained. "Once he has the goods there, he knows what to do."
The 2006 NBA Finals may have turned Wade into a basketball superstar, but it was the 2009 NBA All-Star Weekend and his bowtie that made him a fashion star.
"That's what set him into motion with people looking at what he was wearing," Barnett said. "Before then, he was well-dressed, but now they were saying, 'wow." Some people hated it, some people loved it, but everybody talked about it."
If you look at some of the stuff Wade wears, you might think, "There's no way I can make that look good!" But the secret goes beyond his stylist.
"His swag is so high, you just gotta get that swag going and you can rock it too," Barnett said.
Besides confidence, the other key to dressing like D-Wade is the fit.
"It doesn't matter how much you spend, it's about how it fits on you. That's where people get confused," Barnett said, "They think it's about the money, not the fit.
Of course, it doesn't hurt that Wade gives Barnett a basically open-ended style budget.