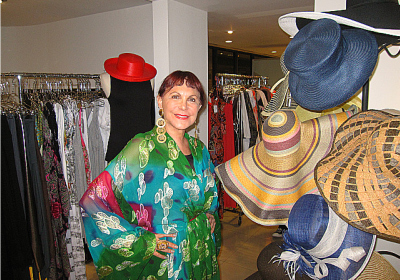 Vintage clothing store maven Madeleine Kirsh said at a fundraiser last night that Miami is finally coming around when it comes to vintage fashions.
"At one point I thought, 'What did I do?'" said Kirsh, who owns C. Madeleine's, last night at RikRak Salon where she was helping to raise funds and donate duds to benefit the Community Partnership of Homeless.
"I feel like for Miami [now], this is one of the places they come -- we even have designers that just come here for inspiration. ... People are now getting it, because all of the celebrities wear it."
The 10,000-square-foot space that houses fashion heavy-hitters from the past several decades has even become a frequent stopover for celebs looking to add to their collections.
"I couldn't even name the amount of celebrities that have come into our store," Kirsh said. "Because they know that they are going to be in heaven."
Kirsh's newest threads will ne showcased on the runway at Viceroy Miami next month for "Take a Walk in Her Shoes," a fundraiser that's part of Miami's community-wide campaign to benefit the homeless. But even if you can't make it, Kirsh extends an open invitation to play dress-up in house.
"Our store is very magical," she said. "You can actually be anything you want to be."
She added, "We want Miami to know that this is a destination location, and when you come here, you are going to have the most fun that you've ever had in your life."