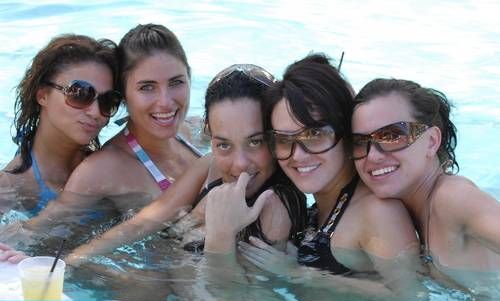 Behind Las Vegas, Miami is probably one of the most known cities for pool parties. And one of the best is held on Sundays at the Shore Club.
Hosted by 944 Magazine and TAI Entertainment, Shore Thing Sundays features flying beach balls, shirtless DJs, spraying champagne bottles, and floating beds.
It's no wonder the white loungers and bright orange towels are always taken by the hippest and most attractive of South Beach.
"The music's great and it's a cool mix of people," said Lisa Dillinger, frequent attendee and senior at nearby University of Miami. "I get to party with my friends and lounge at a gorgeous hotel."
The party goes from noon until close and, unlike most other South Beach hot spots there is no cover charge. But be warned, individual drinks are pricey. A cheaper option might be to buy pitchers or bottles.
"Sunday is the last chance to have fun before heading back to work or often leaving town. We hope our guests let loose and have a great time," said Chad Fabrikant of Roc Media PR.
So this Sunday, don your bikini or swim trunks, lather yourself up with sun block, and head on over to the Shore Club to jam to your favorite tunes and work on your tan.
Shore Thing Sundays
1901 Collins Ave
South Beach Fl 33139