Three police officers with agencies in Miami-Dade County are facing battery and other charges from separate incidents, the State Attorney's Office announced Wednesday.
Miami-Dade State Attorney Katherine Fernandez Rundle held a news conference Wednesday to announce the charges, which involve officers employed by Miami-Dade County, the City of Opa-locka, and the City of Miami Gardens.
"It's really sad for all of us in law enforcement when we have to charge colleagues that are here to protect and preserve public safety for our community," Fernandez Rundle said. "But none of us can really tolerate this nor do the good police officers tolerate this."
The three officers face charges of criminal battery, a first-degree misdemeanor.
The State Attorney's Office said the arrests stem from three different investigations and are not directly connected to each other. Two of the incidents were captured on officer body cameras, Fernandez Rundle said.
One of the officers facing charges is Opa-locka Police Capt. Sergio Perez, who is accused of shooting another officer with a Taser, Fernandez Rundle said.
Perez allegedly used the Taser on a sergeant without the sergeant's consent back in September.
Fernandez Rundle said Perez entered the sergeant's office and asked if the sergeant wanted to be Taser certified. The sergeant said he didn't but Perez used the non-energized Taser on the sergeant anyway, breaking the skin and leaving him with abdomen wounds, Fernandez Rundle said.
"The incident between both members of the Opa-locka Police Department is unfortunate. My prayer is that Captain Perez is afforded the same opportunity that's afforded to every citizen, and that is the presumption of innocence until proven guilty," Opa-locka Police Chief Dennis Jackson said in a statement Wednesday. "We will wait to see the outcome of this case before making any further comments."
Another case involves former Miami Gardens Police Officer Javier Castano, who is facing two counts of battery after body camera footage showed him kicking a man in the head and putting his knee on the back of the man's head, Fernandez Rundle said.
The alleged incident happened after Castano and other officers responded to a gas station back in March 2020 after receiving reports of someone doing car donuts in the parking lot, Fernandez Rundle said.
While officers were trying to take the driver's friend into custody, Castano used "unlawful and unnecessary force" by kicking the man in the face and putting his knee on the back of his neck while he was subdued and offering no resistance, Fernandez Rundle said.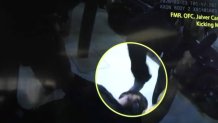 The third case involves Miami-Dade Officer Joseph Diaz, who is facing battery and official misconduct charges following the arrest of a man in July 2020.
Diaz and other officers had responded to a 911 call about a drunk man loitering in the parking lot of an apartment complex, Fernandez Rundle said.
In an arrest affidavit, Diaz wrote that the man was "extremely aggressive," "screaming at the top of his lungs," and had stumbled into the road where he was nearly struck by a car, Fernandez Rundle said.
But body camera footage of the incident showed that while the man appeared intoxicated, it wasn't until he made derogatory comments to Diaz that the situation escalated, with Diaz knocking him to the ground, Fernandez Rundle said.
The man was initially arrested and charged with disorderly intoxication and resisting an officer, but those charges were dropped, Fernandez Rundle said.
"As law enforcement officers we are sworn to support, protect and defend the Constitution. It is disheartening when a police officer violates their Oath of Office, this act is without dispute unacceptable," Miami-Dade Police Director Freddy Ramirez said. "Our Internal Affairs Section initiated a thorough investigation into this matter and worked diligently alongside the Miami-Dade State Attorney's Office. The trust that our community instills on the men and women of the Miami-Dade Police Department will not be taken for granted, it is our duty to protect this great responsibility."