Everyday, American Airlines Cargo Supervisor Israel Pacheco has a mission: get the supplies out of his warehouse and on the American jets and to their destination.
Thursday, though, brought him a special mission. His parents live in Puerto Rico and survived Hurricane Maria's wrath.
"They were within about five inches of getting flooded," Pacheco said. "Five inches from the water actually reaching inside the house and they just prayed."
Fortunately his parents rode the storm safely, but the island is a complete mess and communication is next to impossible.
"Today I have no communication with them what so ever," Pacheco said.
He is part of one of the largest relief efforts to aid Puerto Rico. American Airlines will start sending aircraft from Miami International Airport to the U.S. territory beginning Friday.
"What can I do. How can we do this? When are they going to open the airports," Pacheco said.
South Florida Sending Help to Puerto Rico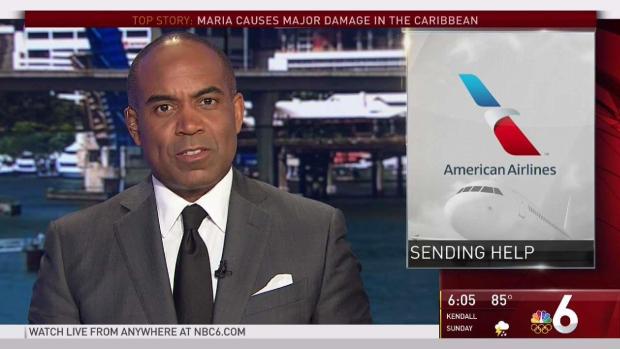 American told NBC 6 they sent one of the largest aircraft in their fleet prior to Maria arriving in Puerto Rico. The main airport in San Juan was only taking military traffic and some relief flights Thursday. Friday that will change.
Alexis Aran Coello is a Corporate Communication Manager for American. She is part of the relief operation.
"We have thousands and thousands of relief supplies ready to go. We have our first relief set to go at 6 a.m.; employees that are going to go and help in Puerto Rico," Coello said. "We are also allowing our active employees to send generators and 150 pounds of supplies to their family members in Puerto Rico."
During the course of Thursday, pallets of water, dried food and medical supplies roll into the American Airlines cargo building that sits on the northwest side of the airport.
As with many firms in South Florida, employees at the airline either have family in Puerto Rico or friends they have worked with over the years. At this time, the island needs all the help it can get.
"We are doing the best we can over here and whenever they open the airport we're ready," Pacheco stated. " We'll be there and it feels good to help my people."
Published at 6:01 PM EDT on Sep 21, 2017 | Updated at 10:53 AM EDT on Sep 23, 2017