Authorities are searching for a missing 17-year-old Florida girl who may be with a man who was a coach at her high school.
Caitlyn Frisina is believed to have left her home of her own accord and may be with 27-year-old Rian Rodriguez, the Columbia County Sheriff's Office said in a Facebook post Sunday.
Frisina left behind her phone, which she fully erased, authorities said. She also withdrew $200 from an ATM in St. Mary's, Georgia, on Sunday.
PLEASE SHARE!

A Fla. MISSING CHILD Alert issued for Caitlyn Frisina, W/F, 17yo, 5'7", 135lbs, BR hair & eyes, from Lake City. May be w/ Rian Rodriguez. May be heading north in 2001 red Mercury Sable, FL tag Z04CSC. Have info? Contact Columbia Co. SO at 386-719-2005 or 911. pic.twitter.com/0hAXufqJbE

— FDLE (@fdlepio) November 28, 2017
The Florida Department of Law Enforcement on Tuesday issued a missing child alert for Frisina, who was last seen in Lake City. Authorities say she and Rodriguez may be in a 2001 red Mercury Sable with Florida tag Z04CSC.
Rodriguez was the head boys' soccer coach at Fort White High School for the Columbia County School District, NBC affiliate WTLV reported. The District released a letter stating that Rodriguez has been suspended pending the investigation.
Parents of Missing Florida Teen Speak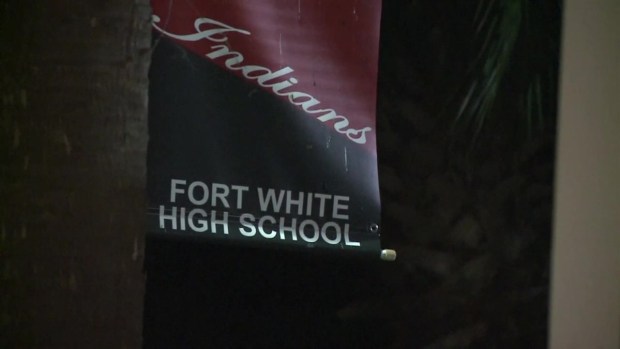 Frisina's father said Rodriguez was a family friend and he's reached out to him but has heard nothing.
"We had communicated during the week, through Thanksgiving. And now, I texted him first thing that morning, like 'Hey have you heard anything? Have you talked to anyone that knows?' and I haven't heard anything," father Ward Frisina told the station. "When I call his phone it goes to, I can't get a hold of him."
Anyone with information on their whereabouts is asked to call 386-719-2005 or 911.