An Amber Alert issued early Friday for a missing 4-year-old boy from Jupiter has been canceled after the child was found safe, authorities said.
Jupiter Police said that Dominic Caprio had been found and reunited with his mother Friday afternoon, about 24 hours after he went missing.
Police said detectives worked with a private legal counsel mediator to arrange for the boy's safe return, but didn't give many other details.
"We were obviously very happy, elated, and it just goes to show you that in many cases, most cases, we can't do it alone," Jupiter Police Chief Frank Kitzerow said. "We need your help, we need the community's help and that's why the balance of this partnership is so important to us."

The child was last seen when his mother left the child with his nanny inside their home around 12:30 p.m. Thursday. When she returned an hour later, both were gone.
The nanny, 57-year-old Blanca Castro, was later arrested in Miami-Dade County by Florida Department of Law Enforcement officials but the child was not with her.
Castro was being held without bond Friday, jail records showed.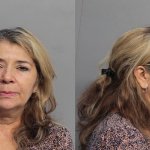 Police believed Caprio may have been in the company of Elizabeth Caprio, 60, and Luis Caprio, 64. Jupiter Police confirmed that they are the child's grandparents.
At the grandparents' neighborhood in Coconut Grove Friday, neighbors said they were shocked to learn of the Amber Alert. They said Luis and Elizabeth Caprio had been caring for the boy.
"Some body would have to explain to me how you can abduct someone you have been caring for," neighbor Fernando Munoz said. "I know that they started caring for - I want to say on a full time basis - their grandchild eight to nine months ago. For whatever reason the parent [was] unable to take care of the kid so all of a sudden they had to become full-time parents."
Law enforcement sources indicated to NBC 6 that the child had spent significant time at the grandparents' home. So what transpired Thursday with the boy's mother to make her believe the child was kidnapped is unknown.
Munoz said things appeared to be going well with the grandparents and the child.
"They even threw a birthday party for the kid, I want to say a month ago. They had a bounce house there, there were lots of people who attended and I thought they were fulfilling the role of parent very good," Munoz said.