A baby was rushed to the hospital Friday morning after a roof partially collapsed at a Hialeah apartment building.
Fire rescue crews arrived at the home located at 767 West 2nd Avenue shortly before 9:30 a.m. When they arrived, they found an 8-month-old, identified by family members as Leandros Vejerando, had suffered injuries to their face from the collapse.
Family members said little Leandros was lying on his bed when, all of a sudden, debris fell on his face.
The child was taken to Ryder Trauma Center in stable condition and is expected to be okay.
No one else was hurt and Hialeah Fire Rescue said heavy rains caused the collapse.
"The whole building has been condemned. The building officials came and shut the building down and as of the last report we had about 21 people displaced," said Capt. David Rodriguez, Hialeah Fire Rescue. Officials said the building was being worked on before the collapse happened.
"There are tarps on the roof and when the torrential rain that came in, water started getting into the roof," said Rodriguez.
The owner said he had hired contractors to finish the work as quickly as possible.
NBC 6 tried talking to the landlord, but he did not answer when asked whether he has insurance or asked about his plans to clean up the mess.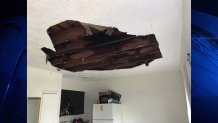 The building owner announced he was providing temporary stay at a local hotel for all affected residents.