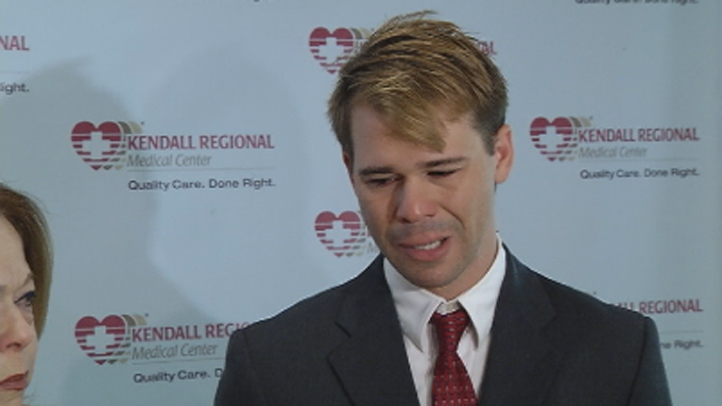 In an attempt to hold back tears, Ramses Herrera spoke out at Kendall Regional Medical Center with a family friend by his side in hopes of finding the person who killed his stepfather and left his mother with serious internal bleeding.
"I can't stop thinking about him. Can't sleep ..." he said, breaking down.
He said of his stepfather, "He didn't deserve this."
The silver SUV in a Florida Highway Patrol impound lot holds the key to what happened earlier this week on Bird Road and Southwest 97 Avenue.
Surveillance video captured a fleeting image of the hit-and-run that killed 67-year-old Carlos Jesus Pildain, of Miami, and injured his wife Dixiana, who was rushed to the Kendall hospital. Family and friends say he was a caring man.
Herrera said of the hit-and-run driver, "They didn't care at all for him. Nobody deserves that."
The mangled Toyota was rear-ended by the SUV and pushed into a light pole. Hours later the Florida Highway Patrol made a critical find 12 blocks south of the accident, finding the SUV parked next door to Blue Lakes Elementary School.
"I can't understand it. I know we all make mistakes. Sometimes we put ourselves in situations we wish we hadn't but there's no excuse for what they did. They just left him there to die," said Herrera.
He is thankful that his mother is expected to make a full recovery, but he has one message for the driver.
"Face up to your crime," said Herrera.
Authorities urge anyone with information on the incident to call Miami-Dade Crime Stoppers at 305-471-8777.