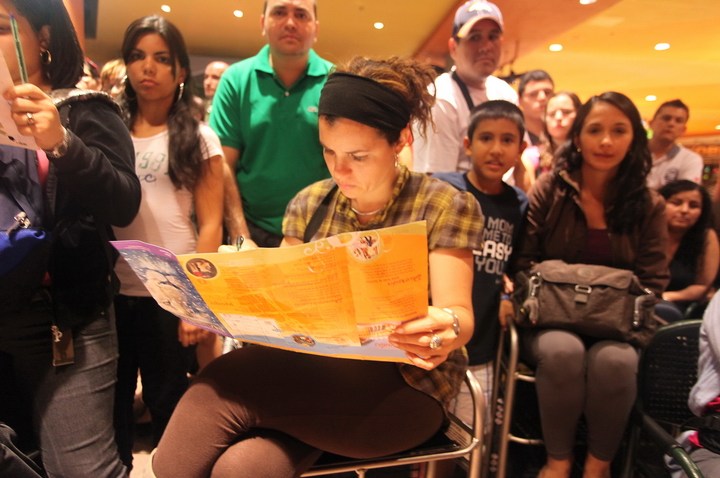 It was pretty much a circus. Shoppers busting through the doors of local malls. Black Friday has become more of an event than a pure search for bargains. Standing in line at the Best Buy at Sawgrass Mills Mall, Chris McAllan and wife Tamara summed it up best.

"It is a social event. It is not a bargain event. It 's just getting out with everybody," the smiling couple reported.

When questioned about finding bargains, spending and budget for the holiday season, not many folks had real answers. They seemed focused on the hunt rather than the results. Shoppers carried bags of purchases, but not that many carts full of gifts. What carts we did see belonged to shoppers who had flown in from the Caribbean and South America to take advantage of the weak American dollar.

The one guy who had it down was Emmett Liggins. He was striding through the mall carrying several large bags, a smile on his face.

"It is all about Obama's stimulus money," he offered. "I am here because of that." He was the only shopper who seemed to have a handle on the revenue stream that got him to the mall. "I work construction. The last two years I have been unemployed. Since Obama has dumped a lot of money into building roads, sewer systems, bridges I have work again. " Asked if that was why he was buying, his answer was a "Yes," with a grin.

Employed or not, Liggins was buying, but he did not have a cart full of purchases. He was not making up for those two years of unemployment. Merchants had hoped for a double-digit increase in Black Friday sales compared to last year.

According to the NPD Research group, compared to last year's Black Friday, this year's total sales increased 0.3 percent. $10.7 billion were spent by 138 million shoppers, whose number increased around three percent in comparison with 2009. The 0.3 percent increase in sales on Black Friday followed a 0.5 percent rise last year.
Chris and Tamara McAllen were looking for just a few items, like Liggins they were not on a major shopping spree.
"This means the American consumer has adapted to the economic climate over the last couple of years and is possibly spending more wisely as the holiday season begins," said ShopperTrak founder Bill Martin.
Merchants are holding their breath that the steady crowds will continue after Black Friday. Unlike the midnight openings of the malls, which turned into sprints, it looks like this year's shopping season is going to be more of a marathon.