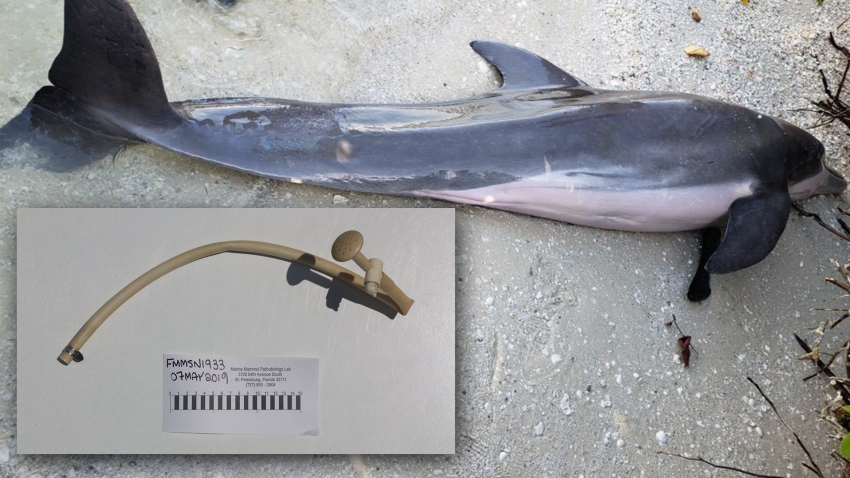 What to Know
A 7-foot dolphin that was found dead on Fort Myers Beach had ingested a 2-foot rubber hose, according to the FWC.
The discovery was made in Big Carlos Pass in early May.
While the finding was significant, officials say the dolphin's cause of death is still unclear.
A bottlenose dolphin that was found dead on a Florida beach had a 2-foot long rubber hose in its esophagus and stomach, according to the Florida Fish and Wildlife Conservation Commission.
The 7-foot dolphin washed up on the shore of Fort Myers Beach in early May, state wildlife officials said. Biologists performed a necropsy and discovered the hose in the creature's esophagus and forestomach, posting a photo of the finding on the FWC's Facebook page.
"This is the second stranded dolphin in one month's time from this region that has ingested plastic – reminding us again to look closely at our habits," the FWC wrote in the post, adding that the finding serves as a reminder to recycle and properly dispose of trash. The organization also noted that simple acts, such as participating in coastal cleanups, could help make a difference in protecting marine life.
The FWC also mentioned that when marine mammals are found stranded, it usually means they are sick, injured or distressed.
"Please don't push the animal back into the water as it can delay examination and treatment and often results in the animal re-stranding in worse conditions," the organization wrote.
While the discovery of the hose in the dolphin was a "significant finding," the FWC said the cause of death is still unclear. More research is underway to determine the exact cause of the marine mammal's death.
In April, two plastic bags and the remnants of a balloon were found in the stomach of a rough-toothed dolphin calf, according to the Fort-Myers News Press.
If you find a stranded marine mammal, call FWC's Wildlife Alert at 888-404-3922.