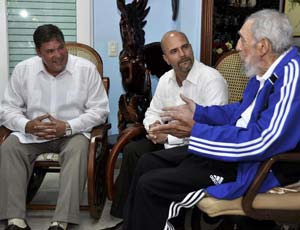 Cuba's official newspaper Granma released 13 new photos of Fidel Castro Monday morning.
In the photos, Castro is seen sitting in his usual chair surrounded by members of the "Cuban Five."
The "Five Heroes," as they are known in Cuba, are fixtures in state media, and their faces grace billboards across the island. However, the five are reviled as spies by many exiles in South Florida.
Four pilots were killed when Cuban MiGs shot down two small, private planes in February 1996 in international waters off Cuba's northern coast. They had been flying missions for Brothers to the Rescue, an exile organization that sought to aid migrants at sea and also dropped propaganda leaflets.
The "Cuban Five" were all convicted in 2001 of being unregistered foreign agents, and three also were found guilty of espionage conspiracy for failed efforts to obtain military secrets from the U.S. Southern Command headquarters.
One of the agents, Gerardo Hernandez, had been serving a life sentence on a murder conspiracy conviction in the shoot-down.
He and two other members of the "Cuban Five" — Ramon Labanino and Antonio Guerrero — were released in January as part of a prisoner swap. The other two members of the Cuban Five had already been released before the last three walked free.
According to the newspaper, the photos were taken last Saturday.
Copyright AP - Associated Press