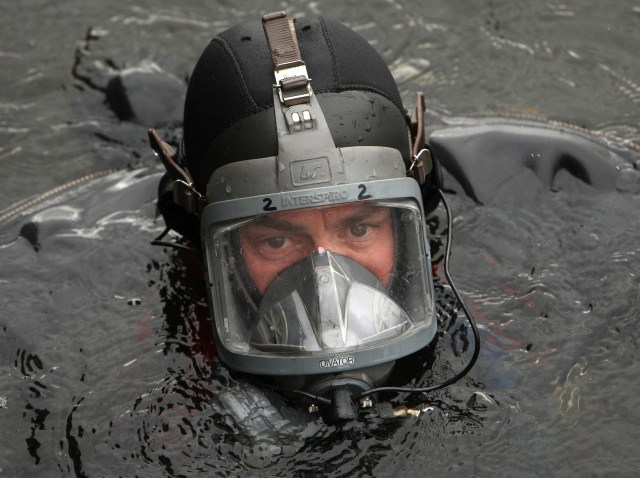 A decade-long mystery may have been uncovered yesterday after an algae-covered car minivan full of human remains was pulled from an Alligator Alley canal in Broward.
Members of the Broward Sheriff's Office dive team made the shocking discovery Wednesday morning during a routine vehicle recovery operation on I-75 near Mile Marker 31.
The remains of at least one person were found in the Dodge Caravan, which was located 18 feet deep. It was the third vehicle found yesterday, but the only one with bones.
"We need to find out, number one, how many human remains are inside that vehicle or in the canal and number two, how they got there," BSO spokesman Mike Jachles said.
Treating it as a homicide, detectives combed the area for evidence of foul play and divers searched for any more remains.
A search of the Dodge's license plate showed the tags haven't been renewed since 1999. The remains could be those of a Tampa woman and her two daughters who have been missing for just as long.
Nelta Jacques, 27, and her daughters have been missing since June 2, 1999, when they were making a late night trip from Fort Lauderdale to their Tampa home.
Police wouldn't confirm that the remains were those of the Jacques family, but family members said late yesterday that police had told them that it was in fact Jacques' car, according to the Sun-Sentinel.
"It's on my mind every single day," brother Valbrun Chevalier told the Sun-Sentinel, who believes the remains in the van are his sister's. "It's worse knowing that she's dead."
Dinora Perry, head of Missing Children International Ministries in Pembroke Pines, is familiar with the Jacques disappearance.
"She was about eight months pregnant," said Perry. "Her father begged her not to drive that car alone. She said, 'Daddy, I'm grown.'"
Surprisingly, the dive team discovery is nothing new for South Florida. A BSO dive team official said about one in every hundred vehicles found will have remains.
That includes the 2008 discovery in a Coral Springs canal of the car and body of Jeff Klee, who had vanished in 1977 at the age of 18.
Klee's friend admitted to police that he had dumped the car into the canal after an argument with Klee over a girl, but claimed Klee had already died from an earlier fall.
No charges were filed because too much time had passed and there was not enough evidence.
The contents of the Caravan found yesterday were brought to the Broward County Medical Examiner's office in Dania Beach where they'll try to determine the identity of the remains and see if it's just one person or more.