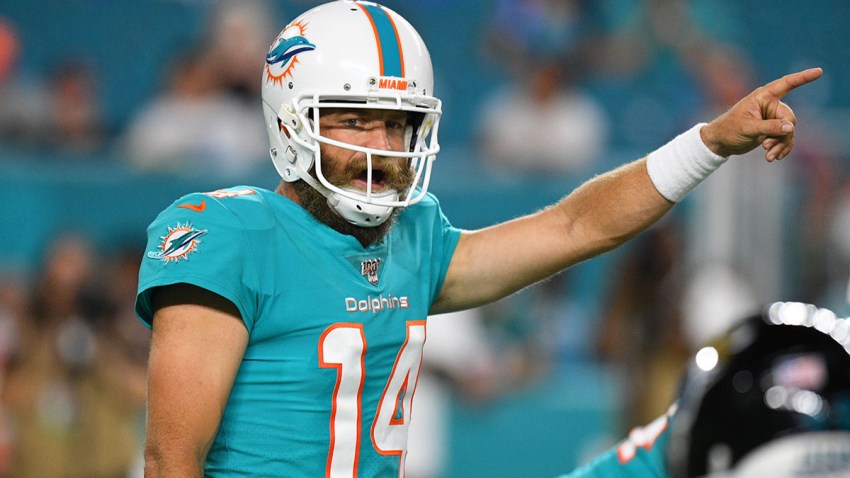 The Miami Dolphins will begin their 2019 season with a game against the Baltimore Ravens at Hard Rock Stadium on Sunday.
After going 3-1 in the preseason, the Dolphins will enter a season that will likely end with different results. Miami is rebuilding and is not expected to compete this year. Baltimore is a playoff contender and will be a challenge for the Dolphins even with a homefield advantage.
High humidity and temperatures in the upper 80s are in the forecast for Miami on Sunday. This kind of weather has historically helped the Dolphins in early season games, but it may not be enough in this one. Baltimore has a far more experienced roster on paper and it could be enough to negate any weather advantage.
Ryan Fitzpatrick will make his regular season debut, after going 17-32 in the air during the preseason. The veteran picked up a touchdown and was not picked off in limited exhibition action. Fitzpatrick won a competition against Josh Rosen, but the job is likely far from secure. Fitzpatrick will need to start the season strong or the countdown to Rosen may begin soon.
Baltimore had the best defense in the NFL last season and should be near the top again this season. The Ravens lost a few names on defense, but it should still be a formidable unit. Miami's offense has been decimated by off-season roster moves and Baltimore may find it easy to keep the Dolphins off the scoreboard. Fitzpatrick is working with questionable targets, while the offensive line may not give him much time to work with.
Kenyan Drake is expected to see lots of action in this game and his production will be critical. With Fitzpatrick unlikely to post big numbers, Drake could change the game on the ground potentially. The depleted offensive line though could make finding holes difficult against Baltimore's defense. An early breakout run could set a good tone for Drake and the Dolphins.
New head coach Brian Flores has plenty of coaching experience, but none as the leader on the sideline. That will change on Sunday when Flores is calling the shots for Miami in his regular season debut. A difficult schedule and a weakened roster will make Flores' job a hard one in 2019. Sunday's game will be Flores' first opportunity to manage the clock and utilize challenges. Mistakes are easy for rookie coaches and the Dolphins may not be able to afford any errors from their head coach.
Lamar Jackson settled in nicely as Baltimore's quarterback last season and he could have a big day on Sunday. Jackson is a playmaker and Miami's defense will not scare many teams. Jackson had a 134.6 passer rating in his preseason action against the Dolphins in 2018. The 22-year old had an 84.5 rating and six passing touchdowns in his rookie season. Jackson also added five rushing touchdowns along the way.
Bobby McCain, Johnson Bademosi, Albert Wilson, Charles Harris and Trent Harris are all listed as questionable on Miami's injury report. Wilson practiced all week, so he should end up active for the game. The wide receiver's participation will be important as Fitzpatrick already has his work cut out for him as it is.
Sunday's kickoff is scheduled for 1:00 p.m.