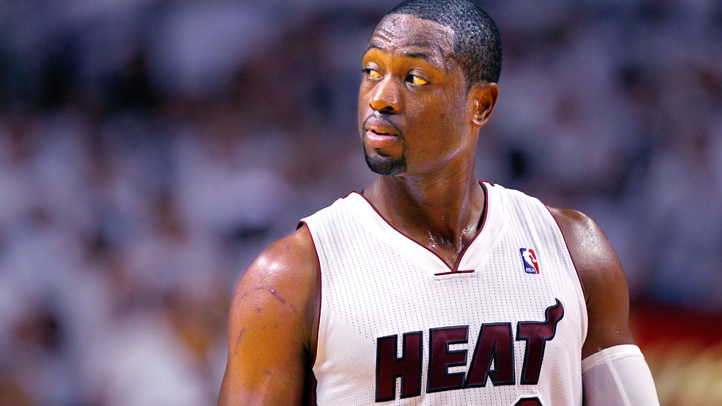 Dwyane Wade will appear on the cover of the September issue of Ebony in a special tribute to slain teenager Trayvon Martin.
The Miami Heat star and his sons Zaire and Zion donned hooded sweatshirts for the magazine cover, which features the headline "We Are Trayvon."
"As a mother of a young Black boy, the tragedy of Trayvon Martin affected me deeply," said Ebony Editor-in-Chief Amy Barnett in a press release. "We simply cannot allow the conversations on this issue to come to a standstill. As the leading source for an authoritative perspective on the African-American community, at Ebony we are committed to serving as a hub for Black America to explore solutions, and to giving readers the information and tools they need to help ensure a bright future for all of our children."
Miami Heat 2013-2014 Schedule Released
Wade's is one of four covers Ebony used for the September issue. Martin's parents Sybrina Fulton and Tracy Martin appear with their son Jahvaris Fulton on one cover. Film director Spike Lee appears on another with his son Jackson, actor Boris Kodjoe appears with his son Nicolas on the fourth cover.
The issue includes an interview with Martin's parents, as well as pieces by Wade, Lee, and Kodjoe describing how they discuss race with their sons.
Wade and his Heat teammates gave a message of support for Martin's family in March 2012, when the entire team posed wearing hooded sweatshirts in a photo that was posted to LeBron James' Instagram account.
"As a father, this hits home," said Wade at the time. Wade also wrote "RIP Trayvon Martin" and "We want justice" on his shoes before a game shortly after Martin's death.
The September issue of Ebony is out now.