An 18-year-old has been arrested in the shooting of a 14-year-old in Homestead that left the younger teen critically injured.
The shooting happened just after 11 a.m. Sunday at an apartment complex in the 800 block of East Mowry Drive.
Police said a group of four teenagers ages 14 to 18 were playing with a 35mm handgun.
A witness said the 18-year-old, identified as Jose Thomas Rios, was brandishing the firearm and showing it on social media, laughing as he said "I am going to kill you," police said.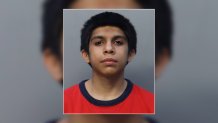 At that point, Rios fired one shot, hitting the 14-year-old in the chest, the witness told police.
The teen, who was not identified, was airlifted to Kendall Regional Medical Center in extremely critical condition.
Police arrested Rios on several charges, including attempted manslaughter and child neglect. He was booked into jail, and attorney information wasn't available.
"I feel sad for the boy, it never should have happened," father Alfredo Rios said Monday.
He said he was shocked to learn what happened, and didn't know where his son got the gun.
"If I knew he had a gun I would have thrown it away. I wasn't aware of it, he is only 18, he isn't supposed to have a gun," Alfredo Rios said.
Neighbors said they heard gunshots and were surprised to learn what happened.
"I came outside. I heard the ambulance. I got scared," a neighbor who did not want to be named said. "This is a quiet complex. This stuff doesn't happen. It just freaks you out that this happens to your kids, which is very sad these days how people play with guns and they don't know what they're getting themselves into."
"The circumstances of the shooting are a little bit alarming, and we are seeing too much of it," Homestead Police spokesman Fernando Morales said.