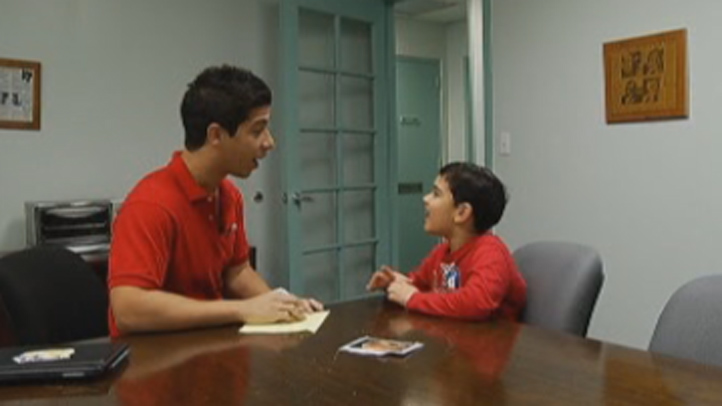 A 6-year-old autistic boy and his mother have won a federal court battle with the state of Florida that opens the door for children on Medicaid to get therapy that could make a crucial difference in their lives.

Until this week Florida's rules did not allow kids without insurance who had autism to get therapy like the "applied behavioral analysis treatment" that Karl Gonzales received on Wednesday.

"We are teaching them the fundamental skills necessary so they can access a typical education in a regular classroom, so they can interact with their peers," said Alex Lorenzo, who worked with Karl, 6, at the office of the Legal Services of Greater Miami just north of downtown.

Karl and two other children won a lawsuit against Florida's rules preventing the therapy for kids with Medicaid benefits. Judge Joan Lenard ordered the state to provide, fund and authorize applied behavioral analysis treatment.

"Everyone in the courtroom started crying," said Miriam Harmatz, who represented Karl along with Neil Kodsi and attorneys from the Legal Services of Greater Miami and Florida Legal Services.

Karl's mother, Ileana Gonzales, said she is "really, really happy because he's my kid."

The therapy costs about $2,000 a week, but it will make Karl and 8,000 other Florida kids with autism productive citizens, experts say.

Paying for the treatments now will save taxpayers money down the road, Harmatz said.

"No more children in Florida (are) going to be lost. The kids on Medicaid, poor kids, (are) going to have the same effective treatment as kids with insurance," she said. "We the taxpayers are going to save a tremendous amount of money since these kids are eventually going to be able to be paying taxes themselves."

Lenard gave the state until Monday to notify all clinics and doctors who provide such treatment about her order.

The state says it is evaluating the ruling and has not made a decision yet about a possible appeal.